In the world of MMA throwing in the towel is a fairly unusual occurrence, but as we see the damage being taken by some fighters is it time to change the stigma that this act seems to have in MMA?
Now this is a question, not a statement, I personally love the sport of MMA and have a great deal of respect for anyone with the courage to step in to the cage and fight for my entertainment. Fighters in general are a fascinating bunch, primal and tough in a way that most people including myself could not imagine being.
It is this fascination that makes combat sports so popular, we mere mortals get to watch these goliaths go toe to toe in battle. Whether is it boxing or MMA, there is a fascination in watching tough people go toe to toe in battle in the name of competition.
Stigma attached to throwing in the towel
It is this toughness that I believe is the worry when it comes to MMA, a lot of the fighters are just too tough for their own good, and as a result end up taking unnecessary punishment. Corner men are generally very reluctant to throw in the towel, as if there is some form of stigma attached. There are very few examples in MMA, only one that springs to my mind was BJ Penn vs GSP.
It is not clear where this stigma originated but I do think that the culture in MMA needs to change slightly towards the act of throwing in the towel becoming more acceptable. There have been no deaths to date in the UFC but if we continue to see the level of punishment taken by some fighters it is a matter of time.
UFC 248
The fight that got me thinking of this was the Women's Straw Weight title fight between Weili Zhang and Joanna Jedrzejczyk this past weekend. Joanna at around the third round developed a haematoma on her forehead that was one of the worst I have seen in the sport. This got progressively worse throughout the fight, by the end Joanna looked like the like the elephant man.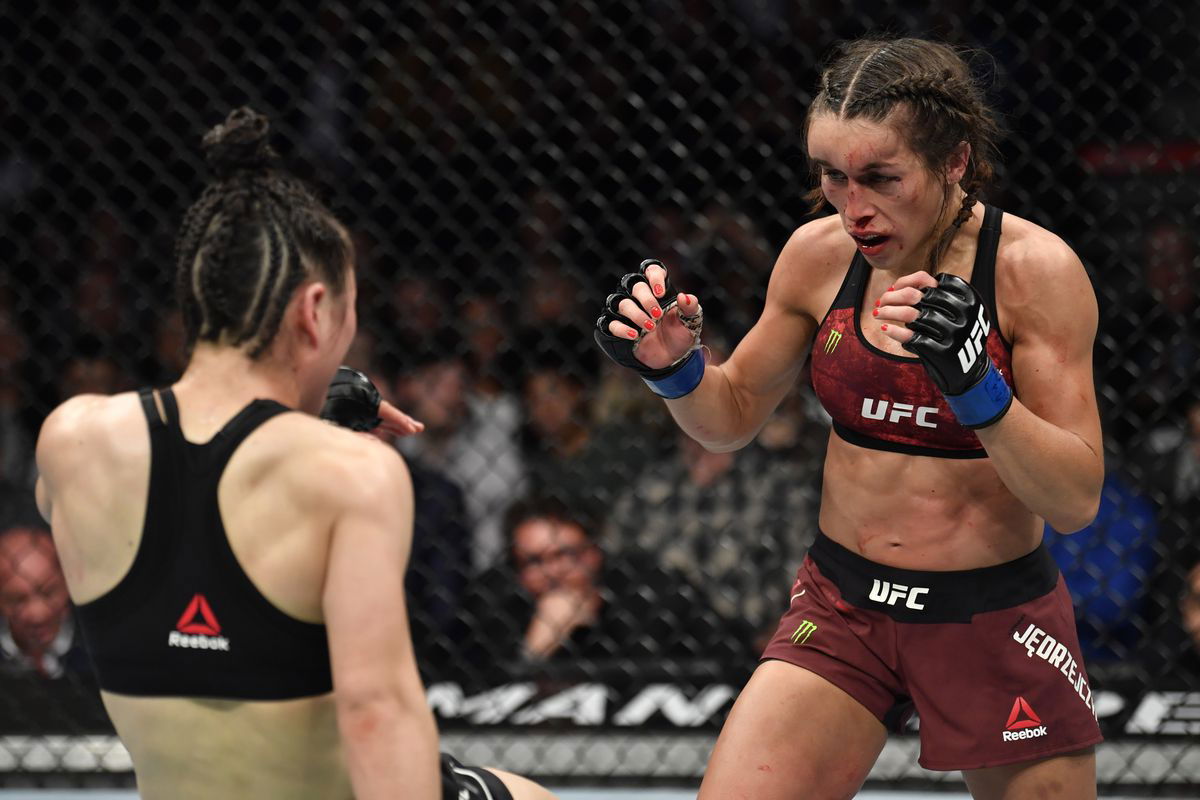 Now that fight is a tough one, I see why they didn't throw in the towel because the fight was close, as close as you can get really. I understand that they wanted their fighter to keep going if they have a path to victory but what is that worth if the fighter ends up with permanent damage that could have been avoided?
Again I ask the question, I am not saying that I have the answers, I am not a fighter so cannot relate to the desire and drive. But I do admire them greatly and would not want to see anything tragic happen that could have been avoided.
Joanna had a path to victory that is true, but that haematoma was bad, and you have to think that something as bad as that requires immediate medical attention. I am not a doctor but any time there is that amount of blood sitting on the head in that way it cannot be good.
Now maybe the decision could have gone Joanna's way but it didn't, she does now seem ok but imagine if she wasn't. Is keeping your athlete in the fight just to see if the judges think that you have won a decision worth the permanent damage or worse?
Other fights that should have been stopped
Last weekend is not the only example of this; one of the worst in my mind was another women's title fight not too long ago when Raquel Pennington took on Amanda Nunes. Raquel is a great fighter but was outclassed, outgunned and just had no way of getting into that fight, this was very clear from round 3.
What made the Pennington fight worse in my opinion was that Pennington said between rounds that she was done. She said she had nothing left and that she wanted out, her corner then pleaded and convinced her to go back out where she just took more punishment. That in my opinion is criminal, if your fighter thinks they are done, you throw in the towel you can't just send them back out to take more punishment.
If you go further back to the second encounter between Cain Velasquez and Junior DoSantos for the heavy Weight title you find another example of a fight that should have been stopped. DoSantos took way too much punishment in that fight, DoSantos would later reveal that he remembered nothing after round 2, there was no path to victory in that fight, the corner should have protected their fighter as beatings like that can take years off a persons life.
Now it is a tough position for the corner men, the fighter will not thank you initially, however maybe in 15 years they will. It is well documented that head trauma can seriously affect a persons quality of life years after the trauma has occurred. That said you can't fight in a cage for a living and not get hit in the head, and nobody lives forever.
For more news and views on MMA please visit our combat sports section, and don't forget to follow us on Twitter for all sporting updates.