So the dust has settled on the Bantamweight debut of Frankie the answer Edgar and it was a very good night for the former Lightweight Champion.
Going into this fight there were a lot of questions being asked about how Edgar would fare in this fight. He is after all 38 years old and has been fighting for a very long time (UFC since 2007) struggling in places to find success after losing the title to Benson Henderson way back in 2012.
Edgar already destined for Hall of Fame
A lot of people have questioned motivation, has he still got the drive after all he has already had a career that will surely place him firmly in the hall of fame when he eventually hangs it up. It was back in 2010 where he beat the then formidable BJ Penn in Abu Dhabi. Defending against BJ again in Boston just a few months later to cement his position.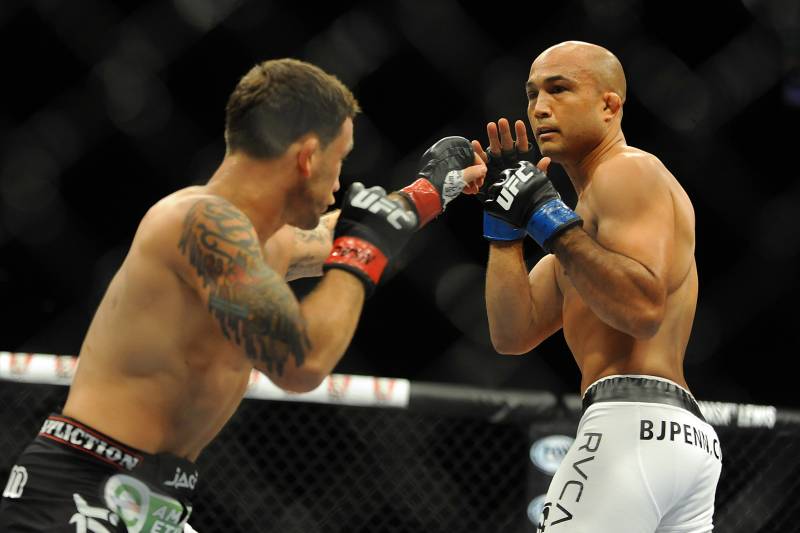 Then came the two classic battles between himself and Gray Maynard, fighting to a draw in the first meeting then knocking out the dangerous Gray Maynard in the second meeting. After that fight he went on a 3 fight losing streak and many questioned how long he might keep going.
When the UFC brought in the smaller weight classes this seemed to invigorate Edgar somewhat, he fought to a decision loss against Jose Aldo on his Featherweight debut, and then racked up some impressive wins there. Charles Olivera, Chad Mendes and Urijah Faber to name a few.
Edgar took his share of losses there too, and one thing to me remained consistent in both his wins and losses at Featherweight, he was still looking very undersized for that division. That was always the fun thing about Frankie; he was always the smaller guy, coming in with insane speed and footwork but always giving up size to his opponents.
This is why it seemed to me that it was a good idea to head down one more to Bantamweight where he should in theory be on a more level playing field. That appeared to be the case as when Edgar squared off against his opponent Pedro Munhoz it is one of the only times that I can remember Edgar not visibly being the smaller man. Edgar in fact even enjoyed a very slight reach advantage in this contest.
Questions heading into this fight
Still a lot of questions were being asked of Edgar coming into this fight. He was going to be taking on a very game competitor in Munhoz, a very dangerous and powerful fighter who is seen as a finisher. Is Frankie getting too old at 38 to this at the highest level?
Age becomes a bigger factor the further down the weight classes you go, this is down to the fact that the first things to diminish are speed and reactions that are the main skills relied upon in the smaller weight classes.
Fight Night
Come fight night none of the negative factors seemed to matter at all to Frankie Edgar, he came out looking like vintage Frankie Edgar. We all knew that Munhoz would likely enjoy a power advantage and he did, but Edgar was using side to side movement and just using volume, being elusive and he finished round 1 very strong with a crisp combination.
To me that was the story of this entire fight, you had Munhoz enjoying the power looking for the knock out while it looked like Edgar was landing in volume. Munhoz did look dangerous and his power was evident but what caused him to lose this fight was that Edgar ate all his shots with ease and was consistently hitting more.
While watching it seemed to me that every time Munhoz landed he was having to take 2 or 3 shots from Edgar. I always try not to look at the fight metrics as the judges don't have those so I feel that they are irrelevant when it comes to scoring a fight. The fight has to be scored on aesthetics, who looks busier, who looks like they are scoring more.
That is where I feel Edgar took over, now I understand that a lot of people saw Munhoz advancing the entire fight (which he was) and have asked why octagon control didn't count for more.
The answer to that is simple, it is a tertiary category in the scoring meaning that it only comes into account when there is no clear winner in the striking and wrestling. Unfortunately for Munhoz while he was going forward Edgar was dancing around him landing shots, not running as some may incorrectly assume more leading his opponent around the cage while staying mobile and landing shots.
I bring all this up because I have seen a lot of people calling this a robbery which personally I find strange as the only thing that shocked me was that it was a split decision. For me I thought Edgar clearly won rounds 2-4, he was busier and just landed visibly more. The other rounds were close however there was not one single round that I could confidently score for Munhoz.
Munhoz put up a good fight but I think he was banking on his power doing more damage than it eventually did. The problem with taking on a fast volume striker like Edgar is that if you don't knock him out you will likely fall behind on the score cards.
So in closing, this fight was not a robbery, not even close. The judges actually got this one correct, well 2 of them anyway. It should not have been a split. Munhoz had a good fight with a future hall of famer and will be back in no time. Edgar was the better man and he looked fantastic, he showed beyond a doubt that he's still got it.
For more like this, visit our dedicated Combat Sports page here. Meanwhile, follow us on Facebook for more opinions and analysis right to your timeline.