UFC 256 is in the books and unfortunately for Tony Ferguson he now has another loss next to his name. The real worrying thing for this sports fan is not that he lost but more that it was not really even competitive.
He has lost 8 consecutive rounds now.
Now, that is not a cause for concern in itself however they were not close rounds, against Gaethje over the summer they had to stop the fight because he had taken too much punishment. Tony is an absolute beast and he would have kept going, but no referee in good conscience would let that massacre continue.
In his fight with Oliveira he didn't take as much punishment to the head as he did against Gaethje but he did get jacked up. That armbar at the end of the first round was so deep, it compromised his arm for the rest of the fight because it clearly got hyper extended. While he didn't take as much punishment the fight still wasn't really that close.
Has Ferguson lost a step?
The real question for me is has Tony lost a step or has the step up in competition revealed that maybe he is just not quite at the level the UFC promotions would have you believe. Now before you jump on me for writing someone off after 2 losses etc, hear me out. Who did he actually beat who was of UFC Championship calibre?
Take a look at his record, the number 12 consecutive wins is way more impressive than the people who he actually beat. Donald Cerrone with respect hasn't looked good in years and is always way too happy to lose a competitive fight, but lose he will. Kevin Lee was impressive but Lee just didn't have the experience at that point.
Then who is there? Dos Anjos? He is very good, but again often ends up on the wrong end of decisions, who is left after that Barboza? Very good standing but take him down and he is a fish out of water. Gleison Tibau, Lando Vannata? All tough guys, you don't get to the UFC without being World class but there is a difference between World class and UFC Championship calibre.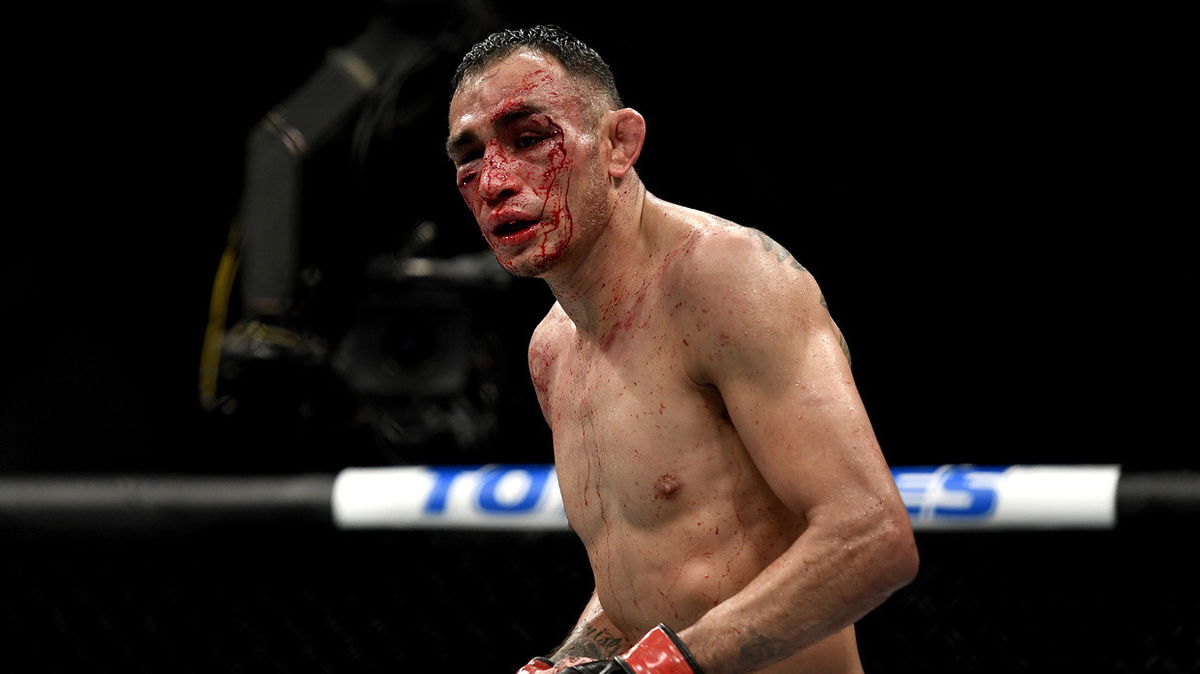 He just gets hit too much;
The problem that I saw for Tony going into the Gaethje fight was that he gets hit too much, he has made a career out of being able to take punishment and then sneak in a choke. This tactic will work up to a point but there is only so much punishment you can take and it will leave you behind on the score cards.
Which brings me to UFC256, before the fight I made some predictions and the one that I was confident about was the fight between Ferguson and Oliveira. As I specify in the video above, Tony is too happy to fight off his back, Oliveira is very good at getting takedowns for a BJJ fighter, he gets the fight where he needs it more often than not.
The fact that Ferguson is aggressive off his back played right into the hands of Oliveira, Ferguson will always attack off his back and against fighters with less grappling pedigree he will often be successful.
However Charles Oliveira is about as high level submission grappler as you can get, Ferguson just simply was not going to catch him. You could see this coming, Tony gets taken down and just wants to attack off his back falling behind on the score cards.
Feguson's coaches should have seen this coming, there was no urgency to keep the fight standing as it seemed Tony thought he could just get the submission. Maybe it is a testament to just how good Oliveira is, but I do feel that Ferguson accepted some of the takedowns as he is happy to just try and win off his back.
The strategy was poor and so was the performance to be brutally honest, at the age of 36 it is difficult to see a road back to the title for Ferguson. This is a shame, but it just never seemed to come together at the right time for Ferguson. Had he not injured his knee before the Khabib fight maybe his career would have taken a different trajectory.
We all speculated, myself included, as to how Ferguson would fare against Khabib, after all styles make matchups. So Khabib would take Ferguson down but Ferguson is so dangerous off his back would Tony find the win from there? Unfortunately at UFC 256 I think we got our answer.
What is next for Ferguson?
Hopefully this is not the end of the road for Ferguson, there are still plenty of willing opponents at 155lbs that would sell PPV's and boost Tony back into a position to try and make another title run.
Paul Felder would be a good match up, both guys are coming off losses and it is a winnable fight for both parties. Both fighters are looking to improve their standings in the Lightweight division. For Tony it would, on the face of it, be a step down in competition but maybe that is what he needs right now.
A match up with Felder would easily be a main event on a fight night, Felder is a big name, bigger than his ranking suggests. A win for either man would give credibility in the division and a demand for a bigger fight, a loss would likely mean the end.
Other options are Dan Hooker, honestly I do not see that match up going well for Ferguson, and I would think that Hooker being ranked 5th would likely be next for Charles Oliveira. The UFC could make the rematch between Ferguson and Dos Anjos, that would sell, and I am sure that Dos Anjos would love an opportunity to get that one back.
So there are options for Ferguson, he isn't quite at the end however the UFC are looking to trim the roster, a third loss and you have to think that conversations are going to be had. But for now let's keep those conversations on his next fight and see if he can get back to his winning ways.
For more like this, visit our dedicated Combat Sports page here. Meanwhile, follow us on Facebook for more opinions and analysis right to your timeline.