Oakland Raiders are planning to suspend star wide receiver Antonio Brown, according to Adam Schefter of ESPN. This news comes after the man known simply as 'AB' posted a picture of a fine letter from the general manager, Mike Mayock, on social media earlier this week.
The letter shows that Brown was fined for failing to turn up to a walk through, as well as having been fined for missing training camp earlier on in the month. The language used in the article quotes the collective bargaining agreement (CBA) and basically warns Brown about any further behaviour which could be considered "conduct detrimental to the club".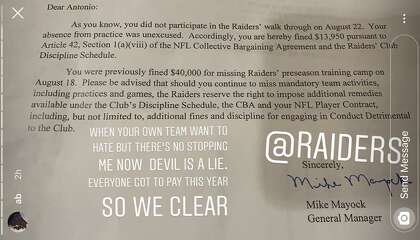 The reports from Schefter and other journalists say that Mike Mayock was far from happy with Brown for posting the details of his fines on social media. It's said that the pair got themselves into something of an altercation in training on Wednesday – although no physicality ensued, AB had to be held back by teammates and threatened to "punch Mayock in the face".
He then proceeded to pick up a ball and punt it away, telling Mayock "FINE ME FOR THAT!" In the process. Serious question here – has Antonio Brown lost the f*****g plot? THAT'S YOUR GENERAL MANAGER, ANTONIO!
Either way, as a result of his actions, and in accordance with the language in the letter AB so helpfully posted on Twitter, it looks as though the Raiders are now planning on suspending AB. I mean, if this doesn't qualify as conduct detrimental to the team then what in the hell does? Looking at it from afar, you have to think it'll be a while before we see AB in a Raiders uniform – in fact, it's becoming increasingly likely it won't happen.
Raiders run out of patience
It's worth noting that if Antonio Brown is to be suspended, it would, under his contract terms, void the $29,125,000 in guarantees. If AB is on the active roster on the first day of the season for Oakland, that then guarantees his $14,625,000 salary due to the fact he is an NFL veteran.
In summary, under the CBA, the Raiders organisation is able to suspend AB for four games and fine him four games worth of pay-cheques. If that happens, it would void the $29 million he is guaranteed and thus allow the Raiders to release the veteran receiver without facing a cap hit – sounds a no brainer to me…
The truth is, AB has been nothing but a headache for the Raiders management all throughout camp this last off-season, so it makes sense they would want to suspend him and this void those guarantees.
Earlier in the summer, Brown had a major drama with the NFL when he took issue with the new regulation helmets, which meant he could no longer wear the helmet he has worn for his whole career so far. He filed two grievances with the NFL – both of which were denied. He did get some good out of it though as it led to an endorsement deal with Xenith.
As well as helmet-gate and the latest fine incident, he also had one of the more bizarre injury concerns early on in camp as he struggled with frostbite in his feet following cryo-therapy treatment.
One thing is for sure, if the Raiders so suspend him and void those guarantees, Mike Mayock and the authorities that be in Oakland certainly wouldn't miss the headaches he brings on a daily basis.
If you were Mayock, would you suspend him and void his guarantees?
For more like this, you can visit our NFL section here. Also, follow us on Facebook for coverage of the NFL and much more.