Valterri Bottas claimed his thirteenth pole position today on the second of two Formula 1 races in a row at the legendary Silverstone Circuit. It was a memorable qualifying session that may well go down in history after a series of interesting events have developed over the past two weekends.
Flashback six days, where the British Grand Prix had a thrilling finish after multiple tyre failures, which affected both Lewis Hamilton and Valterri Bottas. The Fin was way more unlucky than his teammate, limping to the pits and eventually finishing eleventh. Lewis won the race on three wheels, as his tyre only burst on the final lap, and had a 33 second lead over Max Verstappen. Carlos Sainz also had the same problem, which ruined a pretty decent race for the Spaniard.
These failures would have made the next race interesting, had we kept the same tyre compounds, but Pirelli decided before the season started that they would experiment with a step softer tyres. This brought an exciting feel into this weekend, as what looked like a certain two stop on the original compound offers up an extra saucy set of upcoming strategies.
Alongside the strategy change, Sergio Perez tested positive for COVID again so Nico Hulkenburg would yet again take his place. Hopefully this time he'll be able to race, after a power unit failure last Sunday ruled him out. And what a weekend it's been for the Hulk so far, more on that later.
Adding to that there was more drama surrounding Racing Point, as they were found guilty of an alleged breach of article 2.1, 3.2, appendix 6 paragraph 1, 2(a), and 2(c) of the FIA Formula One Sporting Regulations 2020.
So essentially, Racing Point allegedly copied the design of a previous Mercedes break duct, which is not allowed due to a recent rule change that made a brake duct a listed part. A listed part is one that a team must hold the intellectual property right for.
The teams must "retain the exclusive right to use the listed parts in Formula 1 so long as it competes in Formula 1" and "in the case of the outsourcing of design, such third party shall not be a competitor or a party that directly or indirectly designs listed parts for any competitor."
Heading into the qualifying session we expected another Mercedes front-row lockout, with a free for all behind them to make an interesting Qualifying 2 and 3. Lewis Hamilton lead the timesheet in the final practice session this morning, with Bottas slightly behind him.
HOW IT HAPPENED – QUALIFYING – F170
Qualifying 1
The teams spent most of the 3 free practice sessions over the past two days experimenting with the softer soft tyre compound, one testing if it's a good race car, and two seeing if it wears too quickly to be a qualifying tyre. The answer to those questions were no and yes respectively, creating an interesting set of qualifying laps on all three compounds.
For the first run in Qualifying 1, we saw two teams send their cars out on the yellow stripe mediums tyre, they were Haas and Williams. The American constructor sent both Kevin Magnussen and Romain Grosjean out on the medium compound tyre, whilst Williams split their cars, sending George Russell out on that compound and Latifi on the soft.
In K Mag's first run he locked up pretty early on, so his lap was compromised due to a fairly big flat spot on his tyre. He returned to the pits and went out again on softs to match the rest of the field. Grosjean did fairly okay on the mediums, and even better on the softs, pushing the Haas into P13 and Qualifying 2. Kevin just missed out in 17th.
George's first run saw him just above the elimination zone in P15, whilst Nicky placed 20th. With both on the soft in the second run, they qualified 15th and 18th respectively. Russell's fourth Q2 appearance in a row. The Alfa Romeo's were yet again off the pace, occupying 19th and 20th on the grid.
The fifth and final unlucky driver not to make it to Qualifying 2 was Danil Kvyat who would have been safely through in his Alpha Tauri but had the lap time of his final run deleted for exceeding track limits. Both drivers put in very good first laps, placing 7th and 8th so Kvyat would feel like he's missed an opportunity to get into Q3.
Renault's Esteban Ocon was handed a three-place grid penalty shortly after Qualifying for impeding George Russell in this session, whilst Alex Albon went wide over the curb on the exit of Becketts, placing 16th on the first run. Alex managed to put in probably his best lap of the year on his second run however, coming in P3. Could this be a decent Saturday for the British-Thai driver?
Finally, Valterri Bottas lead the session, ahead of his Mercedes teammate, Lewis Hamilton.
Qualifying 2
As I mentioned earlier, Q2 is where the whole qualifying session always starts to get interesting, as you can see what strategy each team intends to run for their drivers as the tyres you set the fastest lap on are your race tyres. We expected potentially all three compounds to be used in the 15 minute time period, and boy did that happen.
Both Mercedes, Racing Point, Ferrari, McLaren and Renault drivers went out on the medium tyres, as did the lone Alpha Tauri and Haas car. In fact only one driver, George Russell, went out on the traditional soft 'qualifying' tyre.
The British second-year driver didn't go out on the first run, meaning his only run on the softs were crucial. He ended up P15, which is a shame compared to previous Williams qualifying performances.
After the session, George told Sky Sports "We're compromising quali pace to be better on a Sunday", which explains the situation perfectly. Hopefully, Williams can strike up a genius strategy and get George his first Formula 1 points.
The only other driver not to attempt to start the race on mediums was Max Verstappen, who's team opted for the white striped hard tyre. Red Bull are always willing to try a different strategy to Mercedes, to try and destabilise them and hopefully shrink the time gap in the race. Max's time was just quick enough to reach Q3, placing 9th.
The main storyline we can take from Qualifying 2 was four-time World Champion Sebastian Vettel yet again failing to reach Q3, and once more losing the quali battle with his teammate, Charles Leclerc. Seb was actually the closest he's been to the Monegasque driver all weekend today, but that wasn't enough to reach the next stage.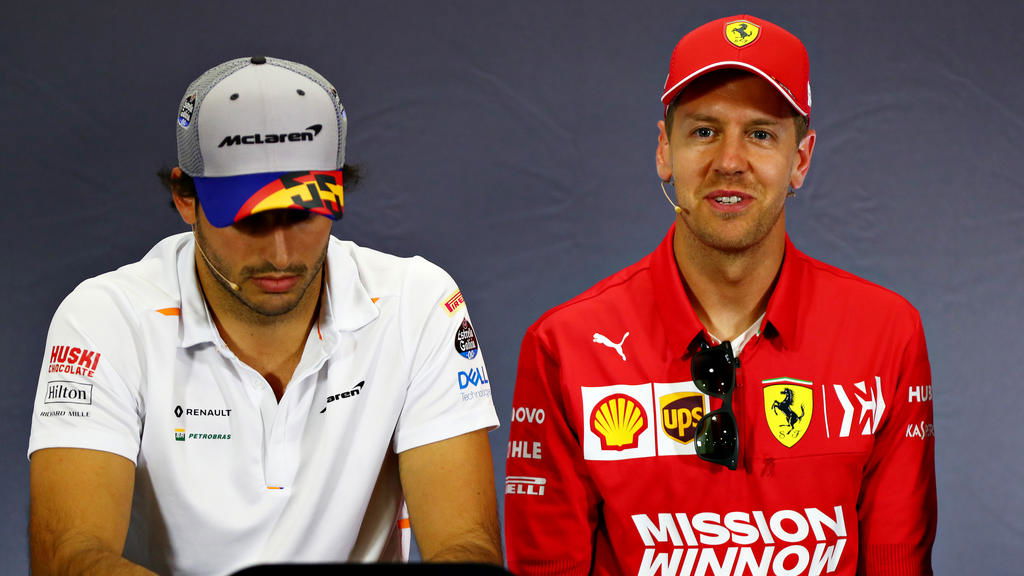 He will start the race tomorrow in 11th, after qualifying 12th due to Esteban Ocon's penalty. Vettel told Sky, "We tried lots of things, I was happy with my laps, I've had worse laps and finished higher." He sounds like someone who's very confused at the current state of his SF100.
Valterri Bottas yet again lead the session, but this time he was ahead of Nico Hulkenberg, who's had a stunning return to F1 as an emergency driver!
Joining Seb and George in the elimination zone were Romain Grosjean, Carlos Sainz, and Esteban Ocon. That left two Racing Point, Mercedes, and Red Bull cars alongside one Renault, McLaren, Alpha Tauri, and Ferrari car in the top 10.
Qualifying 3
Ah, crunchtime! Qualifying 3, the most important 12 minutes of any F1 race weekend. The free for all shootout that decides the order of the top 10 on the grid for Sunday's race. If Lewis Hamilton wins tomorrow he could become the first driver to win back to back races in the same country since Michael Schumacher after the Pacific and Japanese GP's in 1995. Yet again we were in for a two-horse-race for pole position between the two Mercedes cars.
Just like in Q1, we saw a few different tyre compounds being used, as teams were still unaware as to which was the best to qualify on. Lewis and Valterri both went out on the red-striped soft compound, as did the Racing Point, Ferrari, McLaren, and Alpha Tauri cars. Both Red Bull's of Albon and Verstappen went out on mediums, as did Daniel Ricciardo of Renault.
After the first run, the timesheet read as follows; Lewis Hamilton was on provisional pole, could it be number 92 for the six-time world champion? Behind him was obviously his teammate Valterri Bottas in front of an unlikely provisional P3 in Danny Ric. The last time a Renault qualified in the top 3 was Japan 2010 with Robert Kubica. The reasoning behind that is the fact the mediums could give an advantage over the whole lap as tyres overheat from sector 2.
Nico Hulkenburg put in another cracker of a lap in P4, but a better one was to come. He was in front of both Red Bulls in the 5th and 6th spots. Charles Leclerc was in 7th, Lance Stroll 8th, Gasly 9th, and Lando Norris 10th.
Max Verstappen wasn't happy with the mediums and Alex didn't have another new set, so the both of them went out for their second run on softs. As did the rest of the grid, bar the Mercedes drivers and Daniel Ricciardo.
And what a second run of laps it was, particularly from Valterri Bottas, earning his thirteenth pole position. The Fin took pole on medium tyres ahead of Lewis Hamilton and NICO HULKENBURG. The 21st driver in the drivers' championship, on potentially his last ever Formula 1 race weekend. What an achievement, and what a chance he's got of achieving his first F1 podium.
Valterri told Paul Di Resta, "It feels good, I love qualifying. I'm proud of myself and of the car." Lewis, on the other hand, didn't look pleased he told PDR, "I wasn't that great, Valterri did a good job and deserved pole."
Nico seemed shocked, as he would be, especially as less than 10 days ago he was stuck in Monaco eating pastries. He stated "It's been a crazy 7 days, this weekend I felt much better, quali was still tricky, I was a bit scared that I damaged the car, I gave it full beans and I'm a bit surprised to be here".
Behind the German were Max Verstappen and Daniel Ricciardo in 4th and 5th respectively, followed by Lance Stroll and Pierre Gasly. Leclerc, Albon, and Norris rounded out the top 10.
In a post-quali interview, Max mentioned that he was "Very happy for Nico, he should be on the grid, " before adding, "I hope I can have a clean start on the hard tyre." Whilst Charles Leclerc stated, "I expect us to struggle tomorrow, our weakness is managing tyres."
Alex Albon probably had the best quali session of his season until that final run, as the title of unluckiest man in F1 may be shifting to the second-year-driver from Hulkenburg. He was on for a personal best lap on the soft tyres, but posted a horrible sector 3, only placing 9th. Speaking to Sky, Alex worryingly stated: "It feels like there's always something different wrong." You've got to feel sorry for him, personally he's one of my favourite drivers and has a great personality, like his fellow sophomore drivers (Lando and George).
He's got the pace, he always has, it's just mentally where it seems to be going wrong, which goes hand in hand with the seemingly toxic atmosphere at Red Bull Racing. The car is built around Max, clearly, it has been the past few years and no-one other than Daniel Ricciardo has been able to combat that. He's their golden boy, and it seems in order to keep him happy, the other driver must suffer.
Both former Red Bull drivers (Ricciardo and Pierre Gasly) out-qualified Alex, yet again, but that's not a surprise. as both the Renault and Alpha Tauri cars look much easier to drive and bearing in mind how tight the midfield is behind Mercedes.
For more on the 70th Anniversary GP and all things F1, visit our dedicated F1 page here. Meanwhile, follow us on Facebook for more opinions and analysis right to your timeline.
The full Qualifying Classification is available below.
| Pos | Driver | Car | Q1 | Q2 | Q3 |
| --- | --- | --- | --- | --- | --- |
| 1 | Valtteri Bottas | MERCEDES | 1:26.738 | 1:25.785 | 1:25.154 |
| 2 | Lewis Hamilton | MERCEDES | 1:26.818 | 1:26.266 | 1:25.217 |
| 3 | Nico Hulkenberg | RACING POINT BWT MERCEDES | 1:27.279 | 1:26.261 | 1:26.082 |
| 4 | Max Verstappen | RED BULL RACING HONDA | 1:27.154 | 1:26.779 | 1:26.176 |
| 5 | Daniel Ricciardo | RENAULT | 1:27.442 | 1:26.636 | 1:26.297 |
| 6 | Lance Stroll | RACING POINT BWT MERCEDES | 1:27.187 | 1:26.674 | 1:26.428 |
| 7 | Pierre Gasly | ALPHATAURI HONDA | 1:27.154 | 1:26.523 | 1:26.534 |
| 8 | Charles Leclerc | FERRARI | 1:27.427 | 1:26.709 | 1:26.614 |
| 9 | Alexander Albon | RED BULL RACING HONDA | 1:27.153 | 1:26.642 | 1:26.669 |
| 10 | Lando Norris | MCLAREN RENAULT | 1:27.217 | 1:26.885 | 1:26.778 |
| 11 | Esteban Ocon | RENAULT | 1:27.278 | 1:27.011 | |
| 12 | Sebastian Vettel | FERRARI | 1:27.612 | 1:27.078 | |
| 13 | Carlos Sainz | MCLAREN RENAULT | 1:27.450 | 1:27.083 | |
| 14 | Romain Grosjean | HAAS FERRARI | 1:27.519 | 1:27.254 | |
| 15 | George Russell | WILLIAMS MERCEDES | 1:27.757 | 1:27.455 | |
| 16 | Daniil Kvyat | ALPHATAURI HONDA | 1:27.882 | | |
| 17 | Kevin Magnussen | HAAS FERRARI | 1:28.236 | | |
| 18 | Nicholas Latifi | WILLIAMS MERCEDES | 1:28.430 | | |
| 19 | Antonio Giovinazzi | ALFA ROMEO RACING FERRARI | 1:28.433 | | |
| 20 | Kimi Räikkönen | ALFA ROMEO RACING FERRARI | 1:28.493 | | |