Welcome to Liverpool. Sell our only "world class" player. Buy 3 or 4 "good" players. Watch one of those players improve to almost ridiculous extents while the others deteriorate at an alarming rate. Sell this now "world class" player. Then buy 3 or 4 more "good" players. Watch one of those players improve to almost ridiculous extents while the others deteriorate at an alarming rate. Sell this now "world class" player.
This is the merry go round of doom that Liverpool fans have been subject to over the last few years. The transfer committee which followed the reign of Kenny Dalglish has ensured that the club has constantly been in a state of flux. The Dalglish signings were at times carnage. He did get Suarez but among that were signings which would lead to deep mistrust on the part of John Henry trusting managers with cash again.
Liverpool and the State of the Club
Fast forward to Klopp and after a few years of familiar tug and war with the transfer committee, it seems that the owners understand the benefits of parting with their hard earned $$$. The signing of Van Dijk was the catalyst for this it would appear. He played a huge part in the Champions League run which in turn made the club approximately £30m. Having looked at the Summer signings to date, it would appear that the benefit of signing one really top quality player instead of 3/4 bang average ones has not gone unnoticed. Indeed, Klopp's ability to highlight a player he wants and then being willing to wait (see Van Dijk and Keita) to sign that player, seems to be restoring John Henry's faith in transfers again.
In addition to the above, it seems like the club has finally got their scouting act together. At the start of the season, left back Robinson was signed from Hull for a fee of £8m. The lad has been a revelation and nobody other than those involved with the signing would have expected that. Of course, Van Dijk has played a major part in Robinson's development too, as he has marshaled the back line from the day he arrived. The signing of Salah was relatively uncontested and Liverpool appeared to be the only club sniffing around. It's great to see that the scouting system implemented by Rafa Benitez (finding the likes of Alonso, Luis Garcia, and Torres) has been resurrected.
What is (was) needed
Rather than examine what is needed as the other Under the Microscope articles have done, I will have a quick look at the holes the club has plugged because I cannot envisage many other signings. The inside scoops seem to indicate that the club will not sign any more players. Looking even at the loan signings who have returned, the strength and depth is much improved, with Klopp able to call on a reinvigorated Sturridge who has scored 3 times in pre-season. He also has Origi and Markovic back at his disposal. A definite improvement on Solanke.
Allison- £67m, Roma
 This was obvious. I was concerned at the passage of time between the opening of the window and the lack of signing a goalkeeper. Karius, who I'm sure shares a brain with Mignolet, with only one of them able to use it at a time, needed binning. His concussion has obviously fed into pre-season (sic) because he made two mistakes in three games.
Meanwhile, although the price tag is high, Allison has all the key attributes of a keeper. He is agile, brave, has solid hands (Alleluia) and above all, looks to be a total lunatic. You need this in a keeper because it enables them to withstand criticism when things go wrong. The transfer fee is huge for a cat but would I have said this was worth it if he was in goal at the end of last May? 100%.
Keita- signed last Summer
 My God. I knew that Keita was some player but after seeing him at Blackburn the other night properly he is a real box to box merchant. High levels of energy in the midfield are something that Liverpool really needed. Henderson is great in the role he is playing but he does have definite mobility issues. This was highlighted in the Madrid game when Salah went off. Liverpool lacked bite in the middle and Keita will certainly bring that. He isn't just an energetic individual. There is real quality there and some of the through balls to Strurridge against Blackburn were excellent. In short, Keita an exciting prospect and having been signed last season, I'm excited to see why Klopp was willing to wait.
Fabihno- £43m, Monaco
 Again, providing a little bit of balance is something Liverpool had to address and in Fabihno it would seem that they have done that. He is a calm and composed presence in front of the back 4. I did enjoy the timing of the signing too. It seemed that Liverpool had been shrewd and got their man as soon as possible. The signing was completed at the end of May and so just after the loss to Madrid. It was a much-needed boost to morale. This transfer also proved that Liverpool are no longer a panic buying club. It would appear that players are identified very early on and the club is willing to wait for such players if they really have to.
Diamonds in the Rough
 The state of Melwood as a developing academy is not what it was and I cannot see many coming even close to the first team. There is one who last year rose through the ranks at a rapid rate and he is still worth watching to see if he can continue to compete at that level.
Trent Alexander Arnold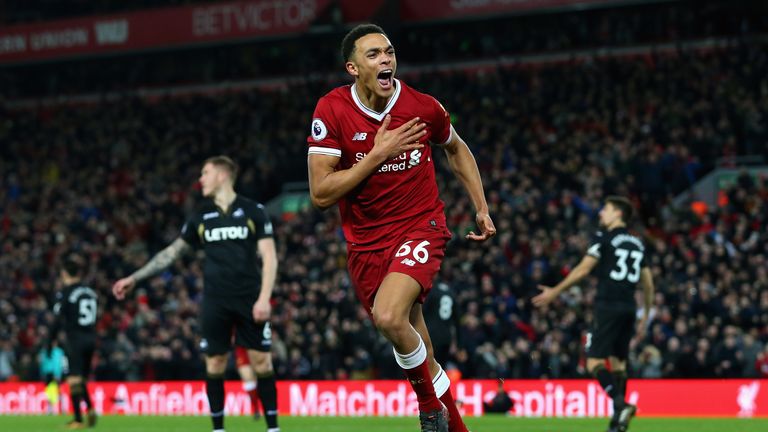 He is 19. That is astounding. It is great to have local talent in the team the second leg at Manchester City in the Champions League last season was where he came into his own. He was booked early on and I was convinced he would see red. Before the match I was concerned how he would fare against Sane but he was absolutely brilliant all night. It seems he rises to the occasion because I was equally concerned about how he would fare against Ronaldo, who did very little all night (Bale on the other hand…). I was so impressed with him during that Champions League run and I really do think he will develop into some player if he keeps his head screwed on.
Lazy Fan Conclusion
The squad is much improved but nobody is catching City this season. I do think with the money spent, Klopp will have to win a cup. If he doesn't, some of the boring chumps on bbc radio phone-ins will not be best pleased.
For more like this, visit our dedicated football page here. Meanwhile, follow us on Facebook for more opinions and analysis right to your timeline.