France defeated Australia 2-1 in a closely matched encounter at the Kazan Arena under the watchful eye of referee Andres Cunha.
Teams
France 2 – Griezmann 58′ (pen), Behich (og) 80′ 
Lloris. Pavard, Varane, Umtiti, Gomez, Tolisso (Matuidi 78′), Kante, Pogba, Griezmann (Giroud 70′), Mbappe, Dembele (Fekir 70′)
Australia 1 – Jedinak 62′ (pen)
Ryan, Risdon, Sainsbury, Milligan, Behich, Leckie, Jedinak, Mooy, Kruse (Arzani 84′), Rogic (Irvine 72′), Nabbout (Juric 64′)
The France Reputation 
As I'm sure you know, a lot has been said about this French team. Indeed, I've spoken at great lengths like one of the great orators about this French team and told anyone who listens that the talent within the squad is unparalleled. Their reputation absolutely precedes them.
And in the first ten minutes of their first group game, it showed. They sliced through the Australian midfield with relative ease. Australia played with fear, sitting back and inviting French pressure. The French obliged, whipping up a storm, Mbappe motoring down the line in the 2nd minute, forcing a solid save from Australia's Matt Ryan. Within moments, Jedinak conceded a relatively soft free kick which Pogba struck directly at the Brighton goalkeeper. After 6 minutes Ryan made his 3rd save, holding tightly onto a Griezmann half volley. France were purring, but Australia gathered themselves.
Australia Regroup
The Socceroos had done their prep, identifying Pavard (the France Right Back) as a potential weak point. Behich overlapped from his left back position, noticing that the French front three tend to stay in the opposition half. Pavard committed a foul after being exposed in the 17th minute and Mooy whipped in the free kick. The ball accelerated off a French head and Lloris was called into action, making a very smart save down to his left.
Australia were suddenly comfortable, pressing France at every moment and half an hour in, beyond the France barrage in the first ten minutes, the Socceroos were untroubled. Australia positioned themselves deep, with 10 men behind the ball during the France attack and French impatience grew with just 12 minutes of the half remaining.
The France Struggle
Australian's had travelled well and were in good voice, booing loudly when their team's intense press spilled over into over exuberance. In the 38th minute Nabbout chased down Hernandez and the manner in which the Frenchman went down proved that the French were rocked. Teams generally have two options when opponents press and leave the odd foot in. One option is to commit and beat a player who dives in, another is to control the energy by getting these players booked. France opted for the latter.
Australia didn't want half time and Behich motored down the left once more, getting another bite at the apple as his poor cross came back to him. He finessed the ball over the bar but Australia finished stronger and the French players stormed down the tunnel.
The Second Half
Within 5 minutes of the restart, operation stifle France was at it's suffocating best. The French responded with neat first time passes being integrated into their game but nothing much changed. In the 10th minute, after a half chance for Australia, France broke and Paul Pogba provided a perfectly weighted pass for Griezmann to run onto. Risdon stopped Griezmann in his tracks, sliding in and in real time it looked as though he got a touch on ball before bringing the Athletico Madrid man down.
VAR and Australia hit back
Referee Andres Cunha in that moment, drew that horribly familiar square to signal the arrival of VAR at this match and trotted over to the touchline. He watched in super slow motion, presumably saw Risdon touch the ball but still gave the penalty. I would imagine he was swayed because the touch on the ball was feather-light and Griezmann could have easily carried on his path to goal. Mark Lawrenson was apoplectic with rage and so was promptly muted. Griezmann stepped up and smashed the ball home with an unstoppable penalty. 1-0 France.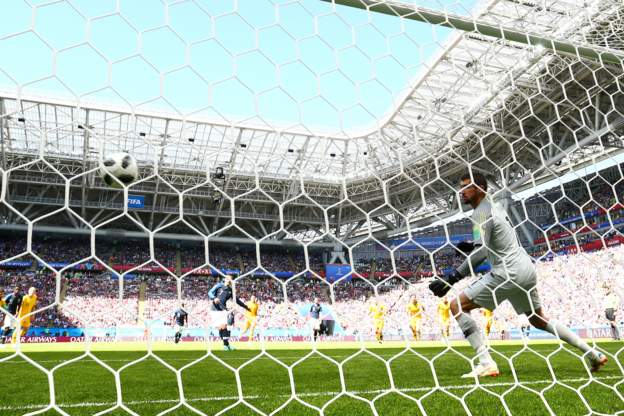 Within moments, France had another chance and it looked like they would surely now press on. Australia, to their credit, rediscovered their composure and found themselves with a free kick in the French half. Mooy, who's delivery had been dangerous all afternoon, floated another into the French box. It looked like it would be easily dealt with but Umtiti had other ideas and he bizarrely punched the ball, holding his hand high above his head. Andres Cunha needed no VAR this time and unduly gave the penalty. Jedinak stepped up and with composure as impressive as his flowing beard caressed the ball into the bottom corner.
All Change
Deschamps in the 70th minute had had enough, sending on Giroud and Fekir for Griezmann and Dembele. Australia responded and sent on Irvine for Rogic and Juric for Nabbout. Nothing changed and in the 77th minute, Deschamps further showed the strength and depth in his squad by switching Tolisso with Matuidi. Australia were just 12 minutes away from a fantastic start to the world cup.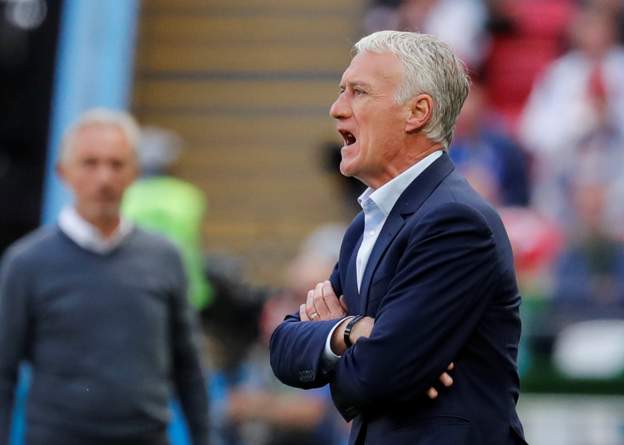 In the 80th minute, France put paid to the Australian effort. During a swift break Pogba burst into the box, Behich dispossessed him but rather than hitting row Z, he almost pulled out of his clearence and watched in horror as the ball looped towards the goal and stroked the crossbar before bouncing over into the goal and spinning back into play. Technology was called upon once again and the goal was given.
Control
Finally, the French exerted the control promised at the start of the game. They broke at will and skipped past the Australian right and left backs with ease. Behich was booked as he struggled to keep pace with Fekir. France finally had their control. Australia had nothing and the match ended with France victorious.
The Lazy Fan View
I was tremendously impressed with Australia. They were compact and played as a unit, ultimately undone by a momentary lapse in the final stages.
In respect of France, they scored just 18 goals in qualifying and struggled to really threaten. It's possible that they are a set of great players rather than a great team. Great teams keep the ball and recycle possession, waiting for chances to come. France do not really do this. More questions than answers, but they got the win they needed today.
For more like this, visit our dedicated football page here. Meanwhile, follow us on Facebook for more opinions and analysis right to your timeline.