Lazy Fan Sports have learned that Tottenham boss Mauricio Pochettino wanted to add former Bordeaux forward Malcolm to his ranks. However, the Brazillian opted for a move to Barcelona after initially telling Premier League clubs he wishes to move to Italy.
Tough Luck, Tottenham?
As per a running theme since their ascension to the 'big boy' table of European football Tottenham have found it incredibly difficult to find their feet and establish themselves as a real powerhouse of European football.
In the past, they've tried and failed to sign far more high profile players than Malcolm. in fact, they even considered a move for Malcolm's new teammate at Barcelona – Ousmane Dembele but opted for Lucas Moura.
There could be bigger fish to fry for Daniel Levy and co (stay locked into LazyFanSports for more exclusives!) but the growing trend and concern among many is that Spurs are too naive to really understand the top-end market in Europe.
From Bordeaux to Barcelona
Malcolm originally was expected to make the move to AS Roma after lengthy negotiations. Roma event went as far as announcing that they've agreed on a deal with Malcolm's former Ligue 1 club.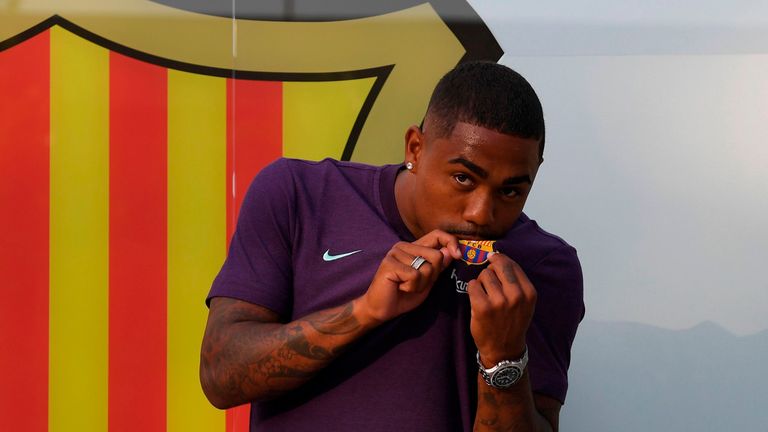 Amazingly, Barcelona crept in out of nowhere and stole the samba star right out from under AS Roma. It looked nearly certain he would be playing in Italy, but Barca prevailed with a more convincing offer in the end to earn his signature.
Malcolm's Match Chances
Not many would suggest Malcolm is ready for a starting role at the Nou Camp. However, if Messi opts for a more central role as he did with Argentina during the latter stages of their World Cup Campaign then the young Brazilian's opportunities may become more frequent.
I would expect World Cup winner Ousmane Dembele to out Malcolm in the early days at Barcelona (providing he's still with the club). Although the Frenchman hasn't found his feet in Catalonia he will no doubt improve.
The battle will certainly be between these two for a starting birth on Barcelona's right-hand side. This is more about being a future contributor than immediate, but there is no doubt that he could help right away.
He's also a player who should have a role with the Brazilian national team in years to come. The current Brazil manager, Tite, was his coach at Corinthians before Malcolm before moving to Europe.
For more like this, visit our dedicated football page here. Meanwhile, follow us on Facebook for more opinions and analysis right to your timeline.