The 2019 PDC Premier League is heading into its third weekly instalment out of seventeen on it's run to the Final at the O2 – and this year's competition is being run in a different format to previous years.
Injury Crisis
On the 4th of February, just two days before the Premier League was due to kick-off in Newcastle, 2 x Premier League champion (2011 & 2015), Gary Anderson announced he was being forced to pull out of the competition due to a back injury.
He told the Professional Darts Corporation's official website: "I'm sorry to the fans that I won't be there this year, I'm as gutted as anybody to have to miss out."
"I've really tried to get myself right for the Premier League but it just hasn't been physically possible because I'm in such pain when I even try and have a little practice and it would risk long-term damage if I was to do anything other than rest and undergo treatment at the moment,"
"My physio has advised me to rest for a few weeks to increase my chances of coming back stronger for the rest of the year and reduce the likelihood of me suffering repeated problems."
The original 2019 Unibet Premier League line-up was as follows:
James Wade, Michael Smith, Raymond van Barneveld, Daryl Gurney, Peter Wright, Michael van Gerwen, Rob Cross, Gary Anderson, Gerwyn Price & Mensur Suljovic.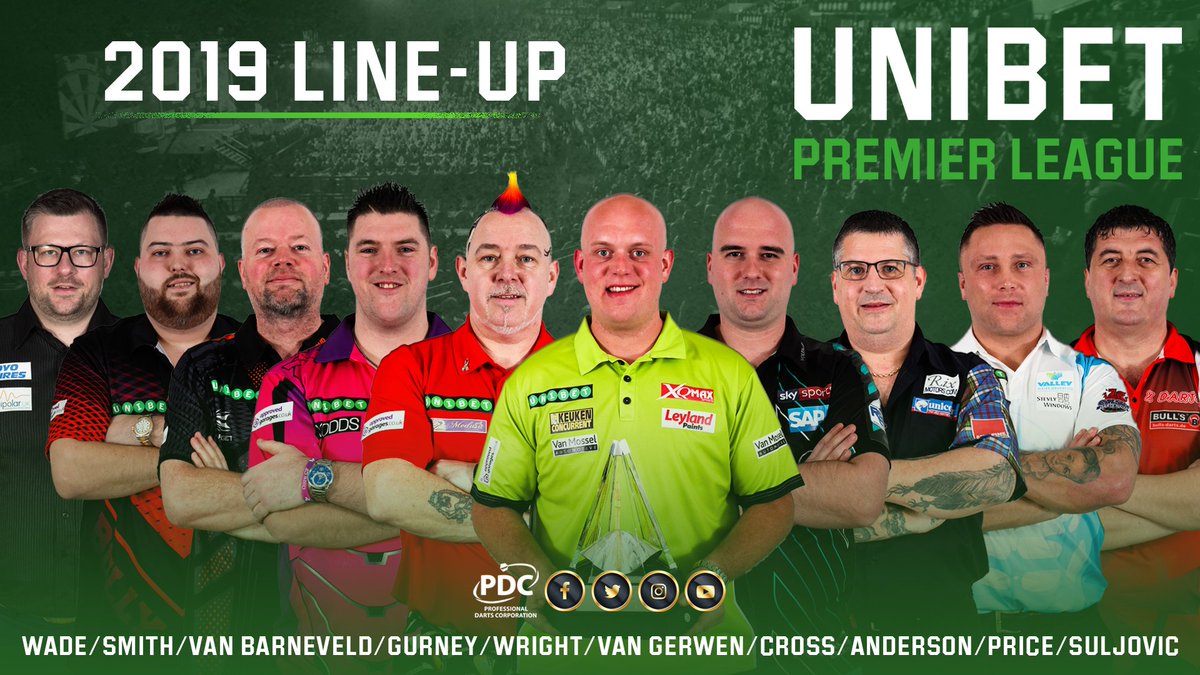 Following the late decision by the Flying Scotsman to withdraw from this year's event, the PDC were left with a decision to make, fear being called 'boring' by fans long looking for some innovation and straight swap Anderson for another player or conjure up an interesting and fresh idea and sell it to darts fans – quick.
The Contenders
Barry Hearn's PDC came to the decision to replace Anderson with 9 'Contenders' – whom each would represent Anderson once per Premier League night up until 'Judgement Night' at which point players are subsequently relegated out of the year's competition.
The idea behind the 'Contenders' was to put a local rising star out in front of their local crowd, on perhaps one of the biggest stages in world Darts and almost prepare them for their eventual call up to the big time in year's to come – at which point there'll be none of the poor debut year's seen previously, as hopefully they will have already played at least one game in front of a manic and somewhat inebriated Thursday evening crowd.
The Contenders included:
Chris Dobey, Glen Durrant, Steve Lennon, Luke Humphries, John Henderson, Nathan Aspinall, Max Hopp, Dimitri Van Den Bergh, Jeffrey De Zwaan.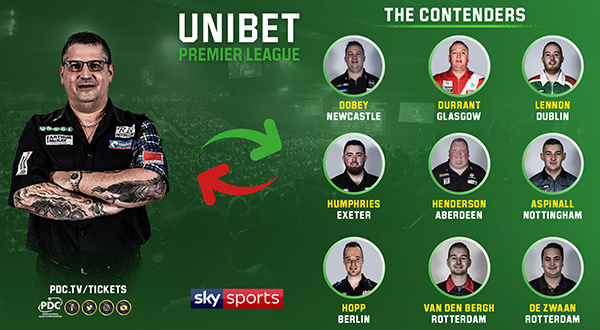 So far, the idea sounds good right?
Wrong.
The league format of this competition means that throughout the 16 weeks leading up to the final, players earn points depending on a draw or win against their opponent, these points then determining the league standings on finals night. And while the contenders are somewhat replacing Gary Anderson from this year's competition, they will not be liable to earn points through any of their matches, whilst their opponent, a 'league' opponent, can earn league points through a victory over their Contender. Hardly fair right? Bit Confused? So am I.
In doing this, the PDC have diminished the reputation of the Premier League and the esteem that comes with lifting the trophy in May – with one of their fixtures each week a glorified exhibition match with some touching scenes as players come out to warm and embracing home crowds.
Where's the consistency? How is it fair that each league player plays a different contender in a different city? Can the league system be truly judged if there isn't consistency across 16 weeks?
Ok, I know it's easy to criticise a corporation who are only trying to better the sport in some way and perhaps who are just answering endless calls to innovate and evolve not just the Premier League but the sport in general.
But it's seems glaringly obvious that after two weeks of the Premier League and two contenders coming and going (Dobey in Newcastle and Durrant in Glasgow) that the PDC have got this wrong. While a fantastic opportunity for each of the 9 called-upon contenders, whom I believe will indeed benefit massively from the experience offered to them by Hearn and co, it seem's that it could have been done in such a manner that the exhibition vibe wouldn't have creeped into such a respected competition – perhaps second only to the World Championships. Why not offer the Contender with highest leg difference an opportunity? Or the incentive to be playing in next year's PL incorporated into final's night?
Give the contenders something to play for.
All for nothing more than some publicity and an attempt to please vociferous fans it seem's a wasted opportunity in which the PDC could have granted number 10 seed Simon Whitlock an opportunity or even Dave Chisnall or Adrien Lewis following good end to their years at the World Champs and the Master's appearances earlier this month.
For more like this, visit our dedicated Darts page here. Meanwhile, follow us on Facebook for more opinions and analysis right to your timeline.