It's that time of week again! Champions League predictions for game week two of the most prestigious club competition in the world. Following on from what turned out to be an intriguing FA Cup tie between Chelsea and Manchester United at Stamford Bridge, seeing The Red Devils emerge from London with a very impressive 2-0 victory, Tuesday and Wednesday provide two Champions League matches apiece to continue what should be a fantastic week of football (providing West Ham beat Fulham on Friday night).
Last week my predictions were rather okay. I got Roma V Porto spot on with a 2-1 victory to the home side. It could have been more, I tipped Edin Dzeko to be a threat for the Roman side and if not for the woodwork, the Bosnian international could have easily had a brace. Ajax faced off against Real Madrid in Amsterdam and once again my prediction turned out to be on the money as the Madrid side returned to Spain following a 2-1 victory. However, the result may have finished differently had Ajax's disallowed goal been allowed to stand after being controversially ruled out. Last Wednesday's fixture made Champions League history as UEFA's biggest tournament saw VAR (Video Assistant Refereeing) used for the first time.
In the two fixtures regarding the English teams, my prophecies were much less accurate. PSG emerged from Manchester 2-0 victors rather than suffering my predicted 4-3 defeat at the hands of United. Going into the game l expected the injuries of Neymar and Edinson Cavani to take their toll on the Paris side but United ended up with injuries of their own, having to substitute Anthony Martial and Jesse Lingard midway through the game. I also proved to be way off in the Spurs Dortmund game, predicting a 2-2 stalemate to take place at Wembley. Despite Jadon Sancho impressing for the BVB in the first half, the second 45 minutes saw centre back Jan Vertonghen channel his inner Roberto Carlos having been deployed at left back for Wednesday's fixture as the Belgian ensured Spurs took control of the tie, playing a huge part in their 3-0 victory.
Hopefully I can be just as accurate, if not more so with this weeks last 16 Champions League fixtures.
Tuesday 19/02/19
Liverpool V Bayern Munich: 2-1
The Reds come into this game from an 11 day break having not played since their Premier League 3-0 victory over Bournemouth at Anfield due to a third round FA Cup exit at the hands of Wolves. The hosts find themselves behind league leaders Manchester City only on goal difference with a game in hand over the Champions and a tough fixture to main rivals Manchester United on Sunday.
The way in which Liverpool approach this game could the illustrate the extent of how much they value a Champions League run, having only just missed out on the trophy to Real Madrid in the final last season. Though I believe that The Reds are certainly capable of winning the Champions League, the five times European Cup winners also have a serious chance of winning their first league crown in 29 years and as much as they would love to go for the Champions League title as well, further progress in Europe hinders the Merseyside clubs chances of domestic success more than that of their main title rivals, City, whom have a lot more depth in their squad.
I feel it would be more fruitful for Liverpool to go all out and try to win one trophy rather than potentially over extending themselves by going for both and then ending up winning neither.
Munich arrive at Anfield on Monday during what can only be described as a difficult season for the German champions at best. Far from their usual dominance of the Bundesliga, which has seen the German outfit lift the title every year since 2013, Munich are currently sat in second place. Bayern's main title rivals, Borussia Dortmund, are currently two points ahead of them with a game in hand to play on Monday against bottom of the league Nurnberg.
Having topped Group E ahead of Ajax, Bayern will come to Liverpool looking to cement themselves in the next stage of the Champions League and even beyond, having not lifted the Champions League since 2013 at Wembley Stadium when they completed an incredible treble. With that being said, I do believe that Bayern's squad needs a bit of an overhaul with both Robben and Ribery leaving at the end of the season. Liverpool, especially having come off an eleven day break, should take the game to Bayern and prove to have too much firepower for the German champions on this occasion.
Lyon V Barcelona: 1-3
Lyon come into the Last 16 in rather odd circumstances. Group F saw OL play out five stalemates and one victory. The one win came rather incredibly against Manchester City in a 2-1 victory at the Ethihad, helping to result in a second place finish on a rather low tally of 8 points, less than any other side except Spurs who finished with the same total. Lyon currently occupy the third and final Champions League spot allocated to Ligue 1 as they lie four points off second placed Lille and 6 ahead of fourth placed Marseille. At this point qualification for the Champions League next year looks likely.
Lyon are certainly not without talent within the squad. Captain and French international Nabil Fekir is a dangerous attacking midfield player whom has been linked with potential moves away from France to clubs such as Liverpool and Chelsea. Barcelona will also have to be wary of 22 year old French forward Moussa Dembele, signed from Celtic in the summer after an impressive year and a half in Scotland earned the U21 French international a £20 million move back to his home country. The French side certainly have players to potentially hurt their Spanish opposition.
Barcelona enter this tie a whopping seven points ahead of the La Liga pack and dominated their Champions League group, topping it with 14 points. With what seems to be yet another La Liga secured already, the Catalonian giants will look to give the Champions League their full attention in order to regain the European crown currently residing at the Bernabeu stadium.
As always, until the Argentine either leaves the club or retires from football, Bareclona's biggest threat will be the one and only Lionel Messi. The five times Ballon d'Or winner has already notched 22 goals and 10 assists after 20 appearances in La Liga this season and scored the winner in a 1-0 victory at the Nou Camp this past weekend against Real Valladolid.
Alongside Messi, Barca can also inject immense quality into the starting eleven through Luis Suarez, Ivan Rakitic and Philippe Coutinho, all three of which came off the bench against Valladolid and could potentially start in France. Despite the French sides victory over Manchester City and the home advantage they have, I can only see a Barcelona victory in this tie, their overall quality throughout should prove to be too much for Lyon to handle.
Wednesday 20/02/19
Atletico Madrid V Juventus: 1-1
This tie is an interesting one for me. Diego Simeone has built probably the best defensive club side in world football since his arrival in 2011. This culminated in 2014 as Atletico defied all the odds, beating Barcelona and Real Madrid to the La Liga crown, their first since 1996. That same season they would narrowly miss out on winning their first Champions League title as a stoppage time equaliser from Sergio Ramos allowed Atleti's biggest rivals, Real Madrid, to win their 10th European cup after extra time. Simeone's side returned to the Champions League final once again in 2016 for another showdown with neighbours Real. Unfortunately for Atletico, history repeated itself as Real lifted the title for the 11th time after winning on penalties following a 1-1 stalemate.
Going into this game, Atletico should rightly have dreams of making the final once more and going that final step further. Despite being seven points off the pace in La Liga, Simeone's side can still count on World Cup winner Antoine Griezmann as a huge threat going forward on the counter attack while the Urguyan rock Diego Godin marshals a near impregnable defence. As well as that, former Chelsea man and ultimate pantomime villain Diego Costa can be deployed by Atleti to disturb the oppositions defence. Given Costa's history, the Brazilian born star will have no second thoughts at the prospect of roughing up an Old Lady.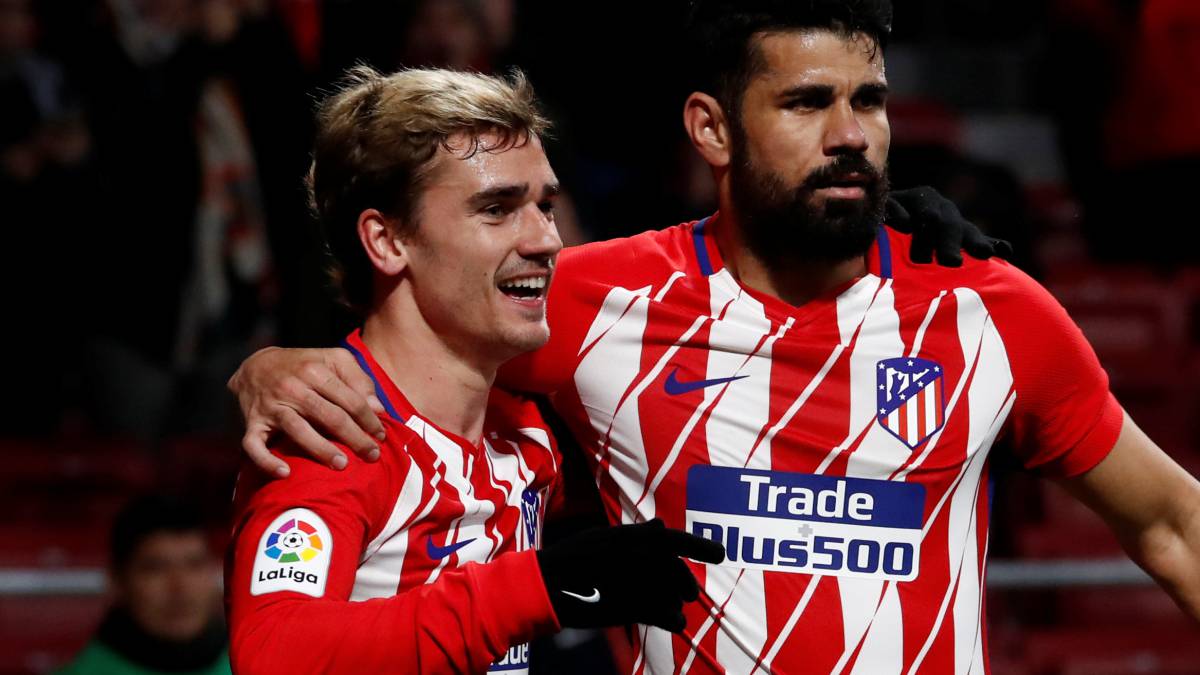 Juventus will arrive in Madrid currently undefeated in and top of Serie A by a ridiculous 13 point margin. Like their Atleti rivals, Juventus have also made the Champions League final twice in recent years, falling at the final hurdle to Barcelona and Real Madrid in 2015 and 2017.
Given that Serie A is already wrapped up in what will be an incredible eighth consecutive win, Juventus are rightly considered one of the favourites to lift the European Cup for the third time in their history. The recruitment of Cristiano Ronaldo has been a fantastic move on the part of The Old Lady as the Portuguese superstar is currently their top goal scorer this season, having scored over 20 goals in all competitions. As well as Ronaldo, Juventus have huge quality throughout the pitch in Argentine international Paulo Dybala, midfield stalwart Blaise Matuidi and veteran centre back Giorgio Chiellini.
Despite being at home, I expect Atletico to sit and defend for most of the game while looking to hurt Juve on the counter attack. The earlier in the game that the Italian side can score, the easier it should be for them as the hosts cannot afford to go into the away tie having lost at home, which could force Simeone's men to abandon their much stronger defence and counter attacking set up should they fall behind. Overall I think it will be tight and and I'm going for a draw in Madrid with the real drama to unfold in the second leg.
Schalke 04 V Manchester City: 0-3
It's been a rather terrible season for Schalke in terms of their Bundesliga form. Last year The Miners finished in second place, a comfortable 8 points ahead of third positioned Hoffenheim. This season however, it's gone very wrong the Ruhr side as they currently find themselves in 14th, three places above the Bundesliga relegation zone.
One saving grace for The Royal Blues is that they did well to finish second behind Porto in Group D, which at the very least should give them some confidence going into this game. Their form in Europe so far this season is even more impressive considering that the German side have been unlucky in terms of the players they've lost in recent years, including Julien Draxler, now of PSG, Jefferson Farfan and former Real Madrid and Dutch striker, Klaas-Jan Huntelaar. In all honesty it would be a huge upset for the hosts to come away with anything.
In my most recent article, I spoke about how Manchester City could be capable of pulling off the quadruple this season. Nothing about this tie gives me any doubts or concerns in regards to City's ability to pull of that near impossible feat. The current league leaders dispatched of Chelsea in their most recent Premier League fixture ruthlessly via a 6-0 home victory. City will be facing their German opponents on the back of a weekend that has seen them breeze past League 2 Newport in a 4-1 away FA Cup victory as they look forward to playing to Chelsea in the final of the EFL Cup on Sunday.
In a week in which Pep Guardiola has apologised to Riyad Mahrez for a lack of game time, I can only see one winner in this Last 16 draw. Guardiola will more than likely unleash Sergio Aguero, if not Jesus, Raheem Sterling and Kevin De Bruyne all at once in order to ensure that this double legged contest is won in the first, much like the treble winning manager did in the semi-final of the League Cup against Burton as his destroyed Burton Albion in a 9-0 home win, rendering the second leg futile. Regardless of the side Pep Guardiola fields, I expect this to be the most one sided tie of the last 16 and for City to sail through to the quarter finals calmly.
For more like this, visit our dedicated football page here. Meanwhile, follow us on Facebook for more opinions and analysis right to your timeline.