Following in line with many reports over the past few months Lazy Fan Sports can now confirm that Manchester United fullback Luke Shaw has been told to find a new club.
Mourinho's lack of faith in Shaw is backed up with further claims that Luke Shaw was considered 'soft' at Southampton according to Saints legend Matt Le Tissier "I remember him getting subbed quite a bit at Southampton and there was a perception that he didn't take a knock very well and was a little bit on the soft side".
Mourinho's problem
Luke Shaw has been at Manchester United for soon to be 5 years now and in last 4 of those seasons, he has only managed to rack up 43 appearances. Many fans and pundits alike have criticized Mourinho's treatment of Shaw during their time together.
Our Lazy Fan insider believes there to be a bitterness left in the mouth of Mourinho after Shaw turned Chelsea – the Mourinho's team, down in order to join Manchester United.
Coming off a truly horrific Leg-break Mourinho should have encouraged Luke Shaw to become a better player than he was before. Instead what he got was little to no game time and repeated public slamming from the manager who bought both his professional and personal life into the spotlight.
During Mourinho's first season at the club, Shaw was given 8 starts – 5 of which were in succession of one another and a further 3 appearances from the bench. Towards the end of his 5 game spell in the side, Shaw had earned plaudits from almost every circle except the managers. Instead of winning the man of the match awards, he was unceremoniously dropped and once again had his attitude questioned by the manager.
Luke Shaw's Fitness Issues
In the past, it wouldn't be out of the realms of possibility to link Luke Shaw to fitness concerns. His Rooney-esque physique certainly isn't the most flattering in the world when the off-season finally rolls around or when he's coming off of a long injury lay-off.
But, moving onto this Summer, as Luke Shaw enters his 5th year at the club he maxed out at the top end of the spectrum when it came to pre-season fitness. Although many first-team players are yet to attend pre-season, I doubt whether many can now question Shaw's fitness.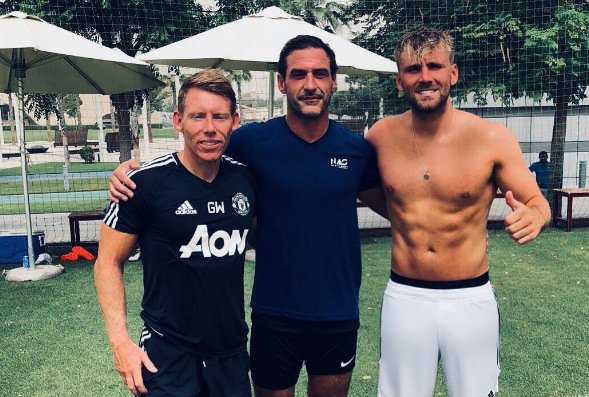 Luke Shaw has certainly not helped himself in the past, it's clear from the fact that several managers have tried and to this point failed to get a positive reaction out of Shaw's play that there is an underlying issue only those inside the club are privy too.
Shaw has fought back from serious injury, he has lived with massive expectation, and he has had to cope with a manager who not only doesn't trust him but a manager who also has a personal issue with the young man.
We'll never know the full extent of the issue and who really is to blame, but if Mourinho lets Shaw leave this season then I am of the opinion most people would now be claiming Jose made a mistake in letting him go.
In glimpses since his teenage years, we've seen that when played consistently Luke Shaw can put in consistently good performances. Whether he stays in Manchester or moves on will be dictated by interest – currently, there isn't sufficient interest in a permanent deal.
For more like this, visit our dedicated football page here. Meanwhile, follow us on Facebook for more opinions and analysis right to your timeline.