With thanks to our Lazy Fan Sports Insider. In a fairly lengthy, 2-part series we'll be going over the discussions and interests held by Everton in regards to signing new players this summer window.
Defenders:
Ben Gibson, Central Defender (Middlesborough)
Ben Gibson will definitely be leaving Middlesborough this summer. It appears as if the only firm interest accepted by Middlesborough has been from Everton and fellow premier league club Southampton.
Domagoj Vida, Central Defender (Beşiktaş)
Everton made an enquiry back in March and held brief discussions with Besiktas regarding the availability of dominant defender. Besiktas told Everton the fee that it would take for them to let Vida go, however, there hasn't been a firm bid made or any further intent shown since these discussions took place.
Marvin Plattenhardt, Left Back (Hertha BSC) 
Pronunciation hazard, Marvin Plattenhardt was singled out by the Everton coaching staff earlier in the season. All indications suggest that Everton would like to deal with Hertha BSC if it was a possibility.
However, they are aware of interest from another Premier League side, a move that Plannenhardt would likely prefer.
Kieran Tierney, Left Back (Celtic)
Like many of the Premier league's top sides, Tierney is a considerable option for Everton. Celtic insist the youngster isn't available for sale but in this day and age money talks. Unfortunately, it seems like the amount of money it would take to lure away Tierney would be too excessive even for the newfound Merseyside wealth.
Luke Shaw, Left Back (Manchester United)
Manchester United are still trying to offload their resident Mcdonalds regular Luke Shaw. Everton had made a loan offer for the fullback in the January window but United was only interested in a permanent deal for the form Southampton man.
If Everton were to return to Manchester United with a formal, permanent offer I would expect Shaw to jump at the chance to join the club he was eager to join in January.
Midfielders:
Yves Bissouma, Defensive Midfielder (Lille OSC)
Lille is renown as one of the hardest clubs in European football to negotiate with, especially if it involves products from their own famed academy system. Currently, Bissouma isn't 'for sale', but at the right price they would be tempted and Everton's interest is such that they may well take the risk.
Jack Wilshere, Central Midfielder (Free Agent)
Everton will make an offer to Jack Wilshere and have asked Frank Trimboli (Wilshere's agent) to be kept informed of any offers made to the former Arsenal man. Whether he would like to move to Everton in the midst of other offers remains to be seen, but Everton will certainly offer him a deal.
Oguzhan Ozyakup, Advanced Midfielder (Beşiktaş) 
Arsenal is one of the most recent British clubs to take a look at Ozyakup along with Newcastle. Interest also remains in the Besiktas man from Marseille, Lazio, Milan and Valencia.
Everton, like Arsenal, spoke to Besiktas in January to try and bring the midfielder in early for a significantly reduced fee. Interest first appeared through Steve Walsh and then through Sam Allardyce but it is understood that interest remains despite Allardyce's departure.
Besiktas had an agreement with Ogunzhan Ozyakup to let his contract expire at the end of June 2018 which would have removed the need for any transfer fee to be paid to Arsenal, as per an agreement where they were assured he would not sign a new deal.
As a cleared free agent, Oguzhan Ozyakup will now re-sign with Beskitas with a newly agreed lower termination clause. The new deal has a €10M termination clause and a fixed fee to his agents SEG.
Now we are in July Besiktas will talk to clubs – with Newcastle the most likely option.
Ruben Loftus-Cheek, Central Midfielder (Chelsea)
As it stands right now, Everton has not made a formal approach to Chelsea regarding Ruben Loftus-Cheek although another Premier League side has (Crystal Palace).
From Chelsea's perspective, they would be open to letting the England international leave on loan but Loftus-Cheek wishes to leave permanently if he isn't in the clubs first team plans.
The club is aware of Loftus-Cheeks' stance and would not have let him leave permanently if it had not been for the sale of Nemanja Matic to Manchester United earlier in the 2017 Summer window.
Everton is interested but it is not Loftus-Cheeks' preferred destination and he would not be Everton's preferred target.
Forwards: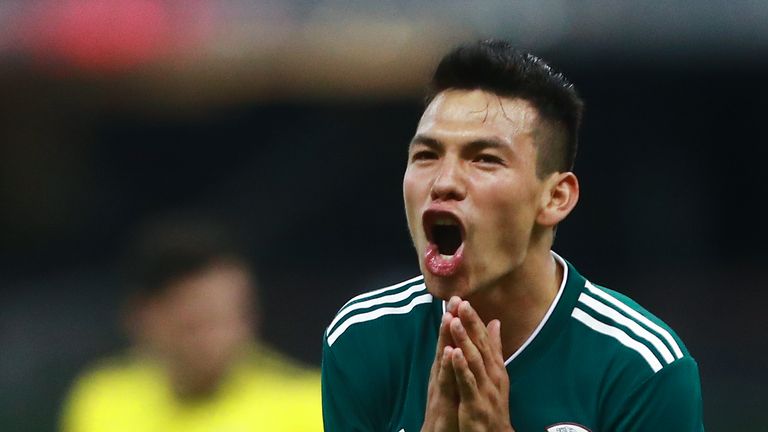 Ante Rebic, Left Winger (Eintracht Frankfurt)
Rebic has had a firm price set by Eintracht Frankfurt which has scared off a host of top clubs including Borussia Dortmund. If Lookman decides to stay at Everton after a loan spell with RBL then any move for Rebic will be dead in the water.
If lookman is available it would still take persuasive efforts from the club to stop the young winger from choosing a European club over Everton.
Yacine Brahimi, Left Winger (FC Porto)
Brahimi has had casual interest from Everton for the past 2-years. There is currently formal interest from other clubs around Europe and along with his previous personal record, it's likely his character would flag up to Marco Silva and co.
The move is unlikely, perhaps next season as the player intends to let his contract run down through its final year.
Hannes Wolf, Forward (Red Bull Salzburg)
Both Everton and RBS have been in constant talks for months regarding Hannes Wolf moving to Merseyside. The major sticking point is that Salzburg are requesting that any deal has a loan-back option (ideally for 2 years) but Everton would want him to contribute to their upcoming 2018/19 campaign.
Hirving Lozano, Forward (PSV)
Everton wants Lozano after being sold on his skill set as a result of Technical Director Marcel Brands fandom in the youngster belonging to his previous employers. It's unlikely that PSV will let the Mexican star leave without dragging their feet and the fee and/or fee structure will most probably push Everton away.
Stay tuned for part II as I'll be discussing the players potentially leaving Everton this summer.
For more like this, visit our dedicated football page here. Meanwhile, follow us on Facebook for more opinions and analysis right to your timeline.