England managed to claim a sensational 31-run victory after just an hour and half of play on the penultimate day of the Test match.
The first test match between England and India in Birmingham, a game which marked the 1000th test played by England, was certainly a game which did not disappoint. In a climate where the future of Test Cricket is questioned and pondered at every opportunity, this gruelling four-day battle was the perfect advertisement for the excitement and emotional rollercoaster that comes with Test Cricket.
A game that had ebbed and flowed over three days and a session, both sides had opportunities to dominate the game as pressure jumped from captain to captain and the day was finely poised for an exciting finish with India needing just 84 runs whilst England, on the other hand, needing the five wickets.
11:04, just four minutes after the start of play and Jimmy Anderson had managed to find the early breakthrough England so desperately required. Malan managed to hold onto one in the slips, despite dropping three catches already in this match, as Karthik was sent back to the changing room after scoring 20.
With Kohli at the crease, India was always in with a massive chance of winning their first ever test match at Edgbaston. Ben Stokes, however, had other ideas for the Indian captain, trapping him LBW in his first over of the day. Kohli begrudgingly marched off the square, after DRS confirmed he was indeed out.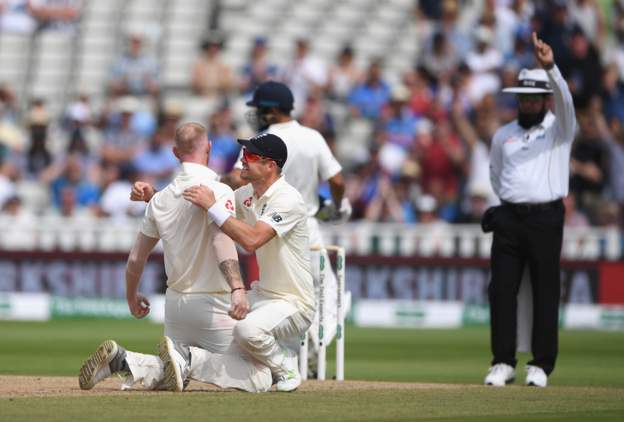 With India now reliant upon a wagging tail to see them over the finishing line, Stokes' scalp of Kohli proved to be the pivotal turning point for England. Shami snicked off behind to keeper Bairstow in the same over for 0, leaving India 141-8 and still needing 53 runs to win.
Ishant Sharma, India's number nine, does have a first-class fifty in Edgbaston and brought some nerves to the raucous Barmy Army in the ground, with some flashy drives racing to the boundary as India slowly chipped away at the low total required.
However, playing wrist spin as a lower order batsman, in a high-pressure situation is never an easy task, and one Sharma was not up to today. A googly bowled by leg-spinner Adil Rashid saw Sharma trapped plumb in line, LBW, as all three red lights of DRS went up on the big screen.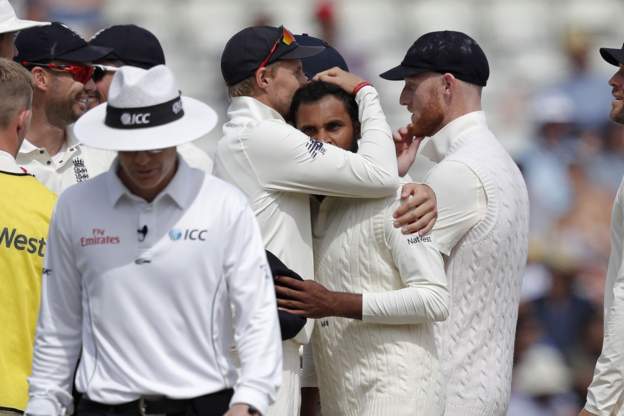 With a mic-drop of their own, a fired up Ben Stokes managed to find the final breakthrough needed for England to snatch victory from the Indians, finding Pandya's outside edge who snicked straight to Alastair Cook in at first slip. A 31-run victory confirmed for England.
The man of the morning was certainly Ben Stokes, ending with figures of 4-40. His timely reminder of how important he is to this England side, after missing out on the Ashes tour of the winter, comes just days before ECB selectors will be scratching their heads as to who to bring in to replace him for the second test at Lords, starting next Thursday, with Stokes set to miss the game due to his court case relating to events from late 2017.
The Man of the Match was awarded to Sam Curran, in only his second test match for England, whose five wickets and 63 runs with the bat were invaluable to England's hopes of snatching this win.
This series continues on Thursday from 11 am as the series goes into the second match of the five-game series.
For more like this, visit the dedicated cricket section here. Meanwhile, follow us on Facebook for news and analysis right to your timeline.