England cricketing star Jofra Archer has revealed he was subject to racist abuse during the final day of the first test defeat to New Zealand. Making his first appearance in an overseas test for England, the 24-year-old says the comments made towards him came from "one guy" inside the Bay Oval.
Following the test, which England lost by an innings and 65 runs, Archer tweeted: "A bit disturbing hearing racial insults today whilst battling to help save my team, the crowd has been amazing this week except for that one guy. The Barmy Army was good as usual."
Archer's teammates expressed their frustration at the events in New Zealand with the Ben Stokes quote tweeting his mate's post with four angry emojis.
Both the England and Wales Cricket Board (ECB) and New Zealand Cricket (NZC) have issued statements saying they are looking into the incident. NZC announced they will apologise to Archer but are yet to identify the perpetrator.
"New Zealand Cricket will be contacting, and apologising to English fast bowler Jofra Archer, who was racially abused by a spectator as he left the field at the conclusion of the first Test at Bay Oval, Mt Maunganui.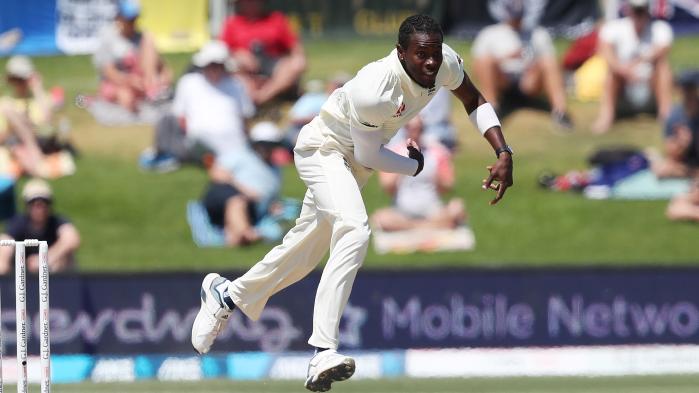 "Although security providers at the venue were unable to locate the perpetrator, NZC will be examining CCTV footage and making further inquiries tomorrow in an endeavour to identify the man responsible. NZC has zero tolerance towards abusive or offensive language at any of its venues and will refer any developments in the case to police."
It's not the first time this has happened either, back in September an England fan said they heard a group of eight men singing a racist song about Archer during the fourth Ashes test. It's quite a disturbing trend that seems to be happening here – hopefully NZC can identify and punish the offender. That man should never step foot inside a cricketing arena again.
For more like this, visit the dedicated cricket section here. Meanwhile, follow us on Facebook for news and analysis right to your timeline.