Players across the Premier League have announced they have joined forces to create a new initiative to 'generate funds' for the NHS and 'distribute them where they are needed most'.
The initiative was announced on social media last night as Premier League players from every team tweeted the announcement at the same time.
The collective initiative – which they have named #PlayersTogether – comes in direct response to a wave of criticism aimed at the players over the last two weeks.
The governments health minister Matt Hancock has previously called out the players for 'not doing their part' but last night welcomed the new initiative describing it as 'big hearted'.
#PlayersTogether have partnered with the NHS Charities Together organisation which houses over 150 NHS related charities.
The aim of their partnership is to guide the players collective to help them see where their funds are needed most, so the players know their money is going to the right place.
Manchester United star Marcus Rashford says it was difficult to get to this point.
"I think there has been plenty of occasions, for me personally, where we've tried to help but we've not helped in the best way possible," Rashford said.
"You can get some backlash from that. We wanted to take our time with the decision.
"We want to help in the best way possible and getting money to the right places is a massive thing."
So, what did the Premier League players statement say?
Over 150 Premier League players have posted the statement from the #PlayersTogether collective on their social media.
The statement explains their decision, why they made it and how they intend on getting the money to the right place.
"Over the course of the last week we, as a group of Premier League players, have held numerous talks together with the vision of creating a contribution fund that can be used to distribute money to where it's needed most in this COVID-19 crisis; helping those fighting for us on the frontline of the NHS," the statement read.
"This is a critical time for our country and our NHS, we are determined to help in any way that we can."
The statement went on to mention the partnership with the NHSCT, explaining what it is they do and why the players have chosen to partner with them.
The statement said: "We can confirm that after extensive conversations between a huge number of players from all Premier League clubs we have created our own collective player initiative, #PlayersTogether, and have partnered with NHS Charities Together in order to assist them in generating and distributing funds quickly and efficiently to where they are needed most.
"NHSCT is the national umbrealla organisation for over 150 registered NHS charities, working closely with the Charity Comission, Department of Health and Social Care, and NHS England to represent, champion and support the NHS' official charities. NHSCT are the official charity partner of the NHS nationally."
The players statement then went on to talk about what their contributions will be used for, before ending by stating that this is 'separate from any other club and league conversations' and that the players want to 'make a real difference'.
"The contributions that this initiative will generate will help NHSCT quickly grant funds to the front line in a number of way, including to help enhance the well-being of NHS staff, volunteers and patients impacted by COVID-19 as well as helping them in their work supporting many other critical areas of need both now and in the longer term.
"#PlayersTogether is about we, as players, as players, collaborating together to create a voluntary initiative, separate to any other club and league conversations, that can help get much needed funds to those that need it right now. To try and help, along with many other in the country, make a difference."
Read the full statement below.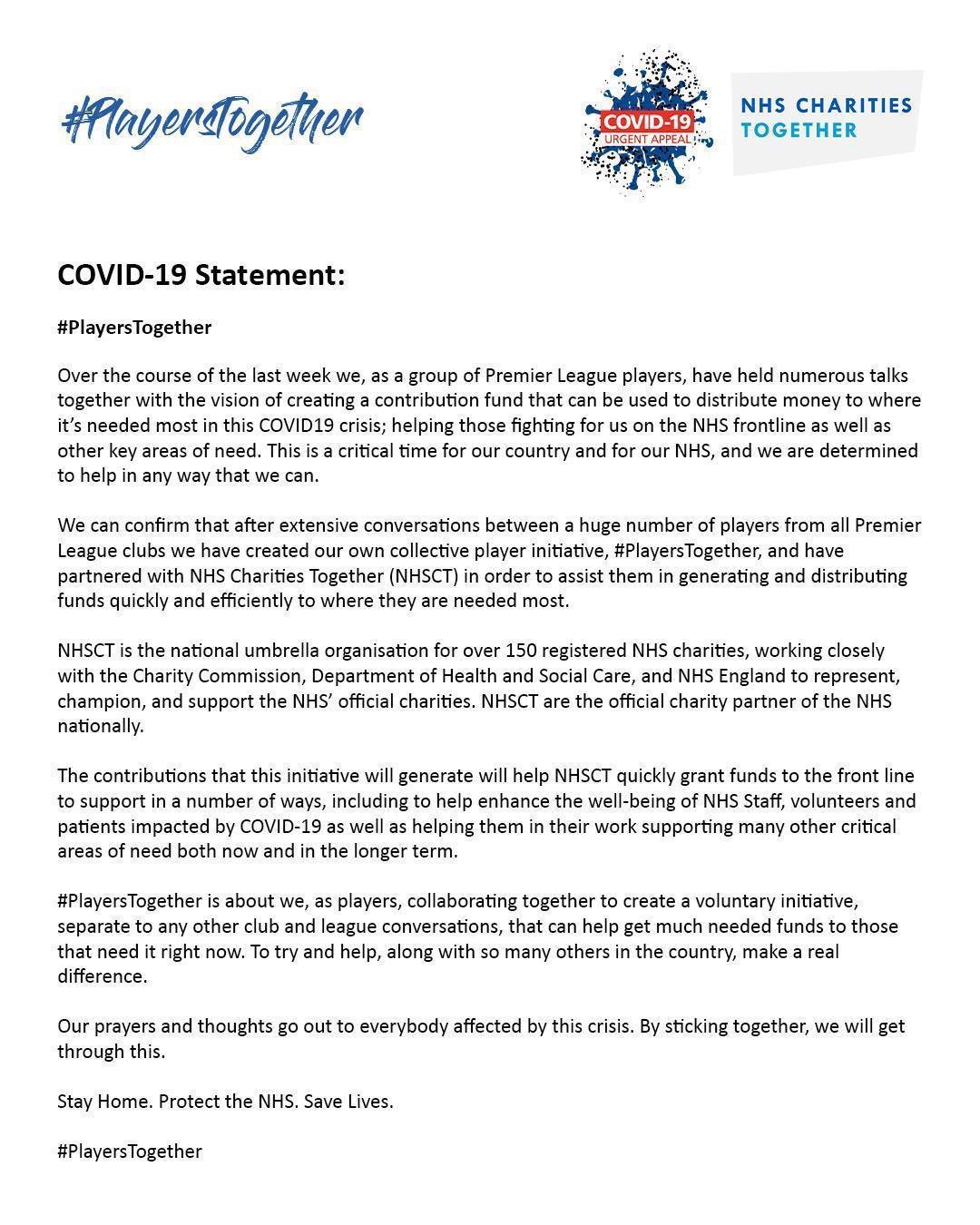 How have people reacted?
The reaction has been largely positive from fans, former footballers, government ministers and beyond.
As mentioned earlier, Matt Hancock described the decision and "big-hearted" and threw back to his previous comments, saying "you are doing your part".
Meanwhile, England legend turned TV sports broadcaster Gary Lineker spoke of his pride for the Premier League stars in the wake of this announcement.
He tweeted: "Footballers are doing their bit as I was confident they would. Let's hope that others that are in a position to help, those that weren't unfairly targeted, do likewise. Proud of our players."
Meanwhile, the chief executive of NHS Charities Together thanked the players for their "fantastic" initiative.
"It sends an amazing message of support to the NHS staff and volunteers working so tirelessly to save lives," Ellie Orton said.
For more like this, visit the news section of the site which you can find by clicking right here. Meanwhile, follow us on Facebook for news and features directly to your timeline.