We are just over half way through the season and Chelsea have struggled since the beginning of the festive period, a notoriously difficult part of the season for most teams.
However, Chelsea's fixtures have been far from difficult. A loss to Wolves (2-1), Leicester (0-1) and a goalless draw with Southampton was far from ideal for the blues and after a 2-0 loss to Arsenal at the weekend, things seem to be getting very heated in the Chelsea camp.
After what seemed to be a promising start to the season it now looks like a battle for fourth place as Maurizio Sarri claims 'the group of players are extremely difficult to motivate'.
It's clear the Chelsea manager has been able to inflict his style of play in the group of players and this was massively helped by the addition of Jorginho who is the type of player that controls the pace of the game.
But a main talking point among Chelsea fans is that Jorginho coming in is at the expense of N'Golo Kante, who is arguably one of the best holding midfield players in the world – as a back to back Premier League winner and most recently World Cup winner.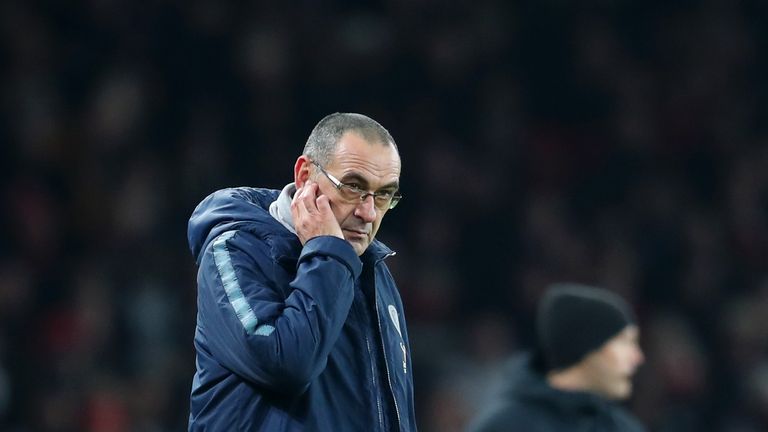 Does Jorginho offer enough for that sacrifice? 2000+ passes and 0 assists this season suggests otherwise.
Chelsea have fallen off a cliff
In Sarri's defence, Chelsea have failed to replace Diego Costa since his dramatic exit of the club. Michy Batshuyai, Alvaro Morata and Olivier Giroud have been average at best with their performances and the team have been heavily relying on Eden Hazard to produce.
Gonzalo Higuain has confirmed yesterday that he will be playing his home matches at Stamford Bridge for the rest of the season but is he really the answer?
Higuain has been a prolific goalscorer over the years but at 31 years of age I believe it will take a lot for him to adapt to the Premier League. Having said that, when Higuain previously played for Sarri's Napoli, he scored 36 goals in 35 matches and I'm sure the Argentinian will be looking to replicate that form in England when he joins up with his old manager and coach.
Some fans have been questioning the signings Chelsea have made over the past few seasons; Alvaro Morata (£59.4m), Tiemoue Bakayoko (£36m), Danny Drinkwater (£34.1m), Davide Zappacosta (£22.5m), Emerson (£18m).
All have hardly made an impact or have even been given much of a chance to make an impact which suggests that the signings being made are out of the managers hands.
To Sarri's credit, the players that have been signed since his arrival have been to suit his style of play and maybe the fans need to be a bit more lenient with the club in order to allow the players to adapt and gel.
Managers at Chelsea have previously had success in their first seasons in charge however look at Liverpool and Manchester City, the two front runners weren't successful straight away but now look like two of the strongest teams in Europe.
Only time will tell if the recent period is just a blip in Chelsea's form and with the likes of Higuain coming in, the season is salvageable.
Let's not forget the blues have strong chances of winning the League Cup, the F.A cup and even the Europa League. If Sarri was to pick up one or two of these trophies, I am sure the fans and the critics would consider that a successful first season in charge.
What're your thoughts on the current situation at Chelsea? Let us know below!
For more like this, visit our dedicated football page here. Meanwhile, follow us on Facebook for more opinions and analysis right to your timeline.