Virat Kohli's sensational 149 singlehandedly rescued India from seeming collapse to steal the day from England, despite being dropped twice on 21 and 51 both times by Malan at second slip. This really was one of the finest innings in test cricket history from Kohli, after looking so troubled at one stage by Anderson and giving England the opportunity to send him back to the pavilion and the potential for 100+ lead, there can be nobody questioning the Indian's captain ability under English conditions.
Kohli's 22nd ton in test cricket, and first in English conditions, had stolen the day from England's bowlers, who had bowled exceptionally in the morning and afternoon session, especially Curran, Anderson and Stokes. Curran, in only his second test match for England aged 20, finished with sublime figures of 4-74.
Fielding errors by England and the ability to dig in when his side needed it by Kohli ensured that England didn't march into their second innings with a healthy lead, leaving Root wondering what could have been on day two at Edgbaston, especially after the loss of Cook at the end of the day leaving England 9-1.
Despite having dominated two sessions of play during the day, it will certainly be the Indians who will be resting with a smile on their faces tonight with the pressure now fully off of Kolhi's shoulders and fully upon Root heading into day three, in what has been a fantastic advertisement for Test Cricket.
Here's how the day panned out session by session:
England have a good morning session
England resumed day two on 285-9 in their first test match against India, with Curran and Anderson at the crease. The pair only managed to add two runs to their overnight score before Curran (24) was caught by Karthik, b Shami bringing an end to England's first innings, all out for 287.
Shikhar Dhawan, one of India's opening batsman had come into this game after picking up a pair in the warm-up match against Essex but had managed to evade a similar fate, picking up three runs in the first over bowled by Anderson.
England had, somewhat, wasted one of their reviews in the third over, as Anderson struck Vijay, the other Indian opener, on his pads with a late in-swinger, but a delivery that had looked too leg side and continued to go down leg; missing all three stumps.
With the sun beaming down on the Birmingham pitch, it certainly looked a glorious day to be batting, as India comfortably crept to 50-0. Yet the breakthrough was finally found as Root decided to review yet another leg-side looking delivery, bowled by Curran, which had smacked Vijay on his pads. Despite the umpire's not out decision, Vijay was sent back to the pavilion by hawk-eye as the delivery would've gone on to hit to middle and leg. This begun a sensational spell from the 20-year-old Surrey bowler.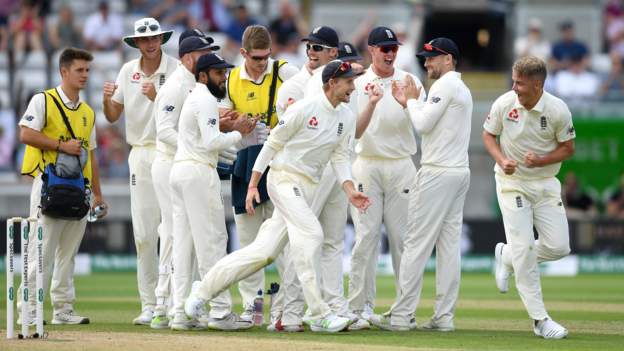 Curran went on to pick up three wickets in eight deliveries, picking up the scalps of Rahul and Dhawan who went and joined Vijay back in the dressing room; a spell which had dragged England right back into the match. India had slipped from 50-0 to 59-3 in the 16th over.
Rahane and Kohli had managed to settle the Indian ship as lunch approached, with both Curran and Anderson managing to find plenty of movement with the ball in hand, ensuring every fan in the crowd was wide awake.
Unfortunately for England, Butler dropped Kohli, in what would have been an amazing slip catch, and in the process had caused damage to his left middle finger and was taken to hospital for an X-ray, but was confirmed by the ECB not to be a fracture.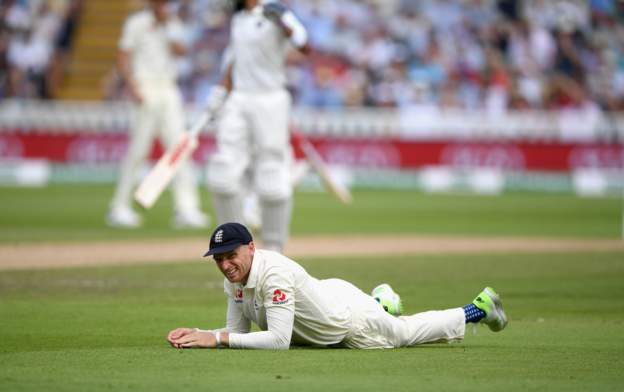 The visitors went into the break 76-3.
Afternoon Session
Virat Kohli kicked off the afternoon session with back to back deliveries through the off-side off the bowling from Stokes as Cricket's 'Ronaldo' looked to build on the important fourth-wicket stand with Rahane.
Into the third over of the session, Stokes managed to hoop one back into the pads of Rahane, but despite appeals, the umpire was reluctant to raise his finger. Bairstow, England's Wicketkeeper, had called for Root to ask for the review, which he decided against, perhaps still with the first review still on his mind. Groans rang around Edgbaston as the screens around the ground then showed that the delivery would've crashed into leg-stump and overturn the umpire's decision. India 92-3 as the game entered "a crucial bit of play", described Tuffnell on BBC Test Match Special.
The 100 was brought up for India by Rahane with a boundary; before Stokes then found some extra bounce with the next delivery forcing Rahane into an awkward shot, straight into the hands of Jennings at third slip. Just as in the morning session, one wicket brought another very soon as Stokes re-arranged the Indian wicketkeeper's stumps, Dinesh Karthik sent packing for a duck. This was Ben Stokes' 100th Test Wicket for England and perhaps one of his finest.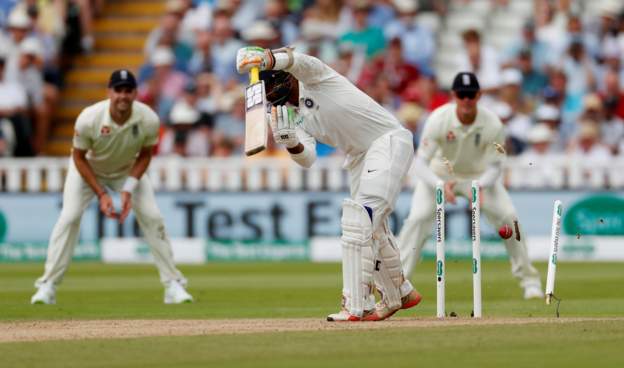 With India on 100-5 and the crowd jeering every delivery sent down by Anderson and Stokes, the visitors seemed in an extremely dangerous position and close to a collapse. Any batsman requires some luck going his way should he spend some time in the crease, and it seemed luck was on the Indian's side. Kohli was dropped off of Anderson, who had his tail up after some fine swing bowling, by Malan on 21 and then the very next delivery Cook spilled a sitter which would have seen Pandya sent back to the dressing room for 0 and given Stokes another wicket.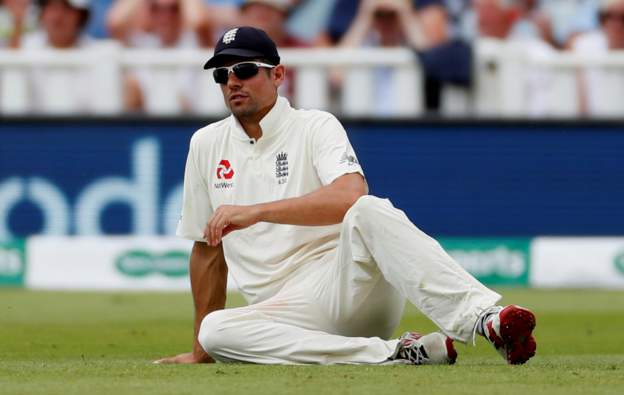 Kohli and Pandya capitalised on these mistakes in the field by England's slips as they pushed on with their rebuild job, battling through delightful swing bowling from all off England's seamers.
Curran was back into the action with his fourth wicket getting the ball to bounce directly onto the boot of Pandya (22) and confirmed as out by a desperate review from the batsman. Ashwin then joined Kohli to the crease, who had achieved his best score on English soil (previous best was 39). Kohli soon made his first 50 in England as he looked to prove his critics wrong.
More fielding woes for England as the session drew to a close, as Kohli was able to breathe yet another sigh of relief with Malan again dropping him at second slip for the second time of the session.
India went into tea 160-6, trailing England by 127 in a session that started and ended as England's.
Evening Session
Positively for England, Butler had returned to the field after the tea break, calming any worries that he may be out of for the rest of the match or the second test next week.
Roars erupted around Edgbaston shortly after play resumed as Jimmy Anderson finally picked up his first wicket of the match having bowled so well all day. Anderson picked up the wicket of Ashwin (10) bowling him top of off with a delivery that was just too good for India's number eight. It wasn't long before one became two for Anderson, as Malan finally managed to keep hold of one at second slip catching Shami (2) and refused to celebrate the wicket but look to the skies in relief after a troublesome afternoon for the Englishman.
Anderson, with his tail up and sniffing blood, was searching for more wickets and hoping to secure a sizeable lead for England to take into the second innings. Despite thinking he had him twice, Anderson was denied the wicket of Ishant Sharma both times through review after the umpire had given the Indian out for LBW.
Whilst Kohli motored on scoring runs and made England pay for those drop catches earlier in the day, Sharma eventually fell LBW to leg-spinner Adil Rashid, a big googly from the Yorkshire player showing how much low order batsman struggle against wrist spinners. India 217-9, trailing England by 60 and Kohli edging ever closer to his first century in England.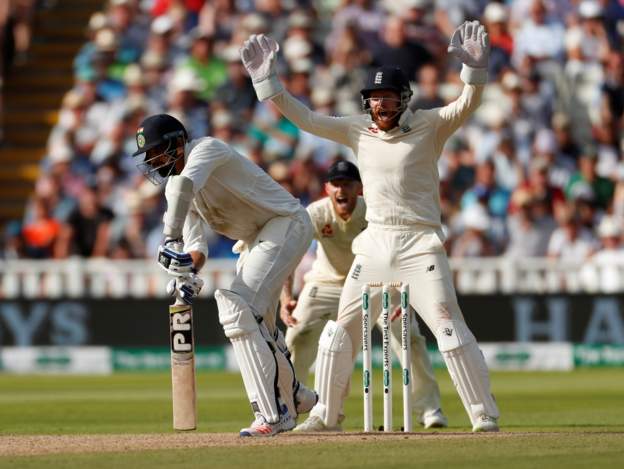 The Indian skipper eventually reached his ton to the annoyance of the eleven fielders on the pitch with him, a real captains innings under immense pressure and silencing his critics who claimed he couldn't do it under English conditions. A scream of celebration, kiss of his wedding ring and whip off of his helmet, Kohli's emotions were there for everyone in Edgbaston and watching around the world to see, whilst Root was left thinking of what could have been had Malan held on to either of his chances.
The captain's innings eventually came to an end as Rashid had Kohli caught on 149 by Broad, bringing an end to the Indian innings, all out for 274, trailing England by 13, and in a much healthier position than seemed likely at lunch or tea.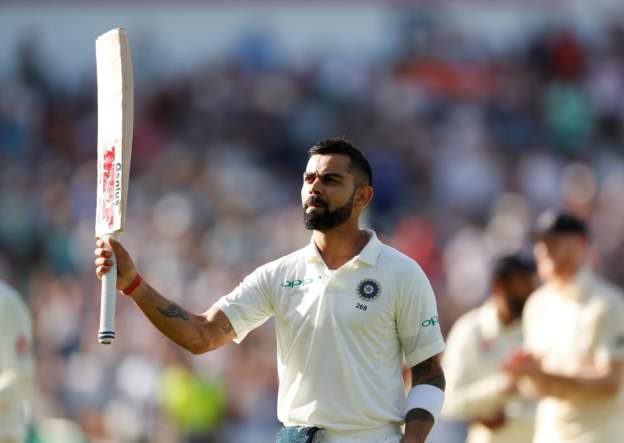 Jennings and Cook were then forced to face three overs before the end of play, with Kohli tossing the ball to Shami and his spinner Ashwin, with both openers left-handed and Ashwin record against such batsman being so marvellous.
What a decision it was by Kohli to introduce Ashwin so early into the attack, as the off-spinner bowled Cook for 0 with a ripper that pitched on leg and hit the top off. The Indian's celebrated wildly knowing how big of a scalp that was to end the day's play as Cook, emotionless and dejected marched off the field. England 9-1, and with seven left-handers in the team, it will be a hard night's sleep for most of that English side.