Yorkshire beat Essex by 25 runs to set up a Semi-Final tie against Hampshire on Monday
Vikings Longboat Rocking
Yorkshire won the toss at Chelsmford and had elected to bat first.
However, it was far from the perfect start for the Vikings as they found themselves 1-1 after just two deliveries. Opening the bowling for Essex was Porter, who managed to trap Kohler-Cadmore LBW on his first delivery, sending him back to the pavilion for a golden duck. The nightmare beginning for Yorkshire continued as Brook (2) chopped on Coles' delivery straight into his off-stump, leaving Yorkshire 5-2 after just two overs.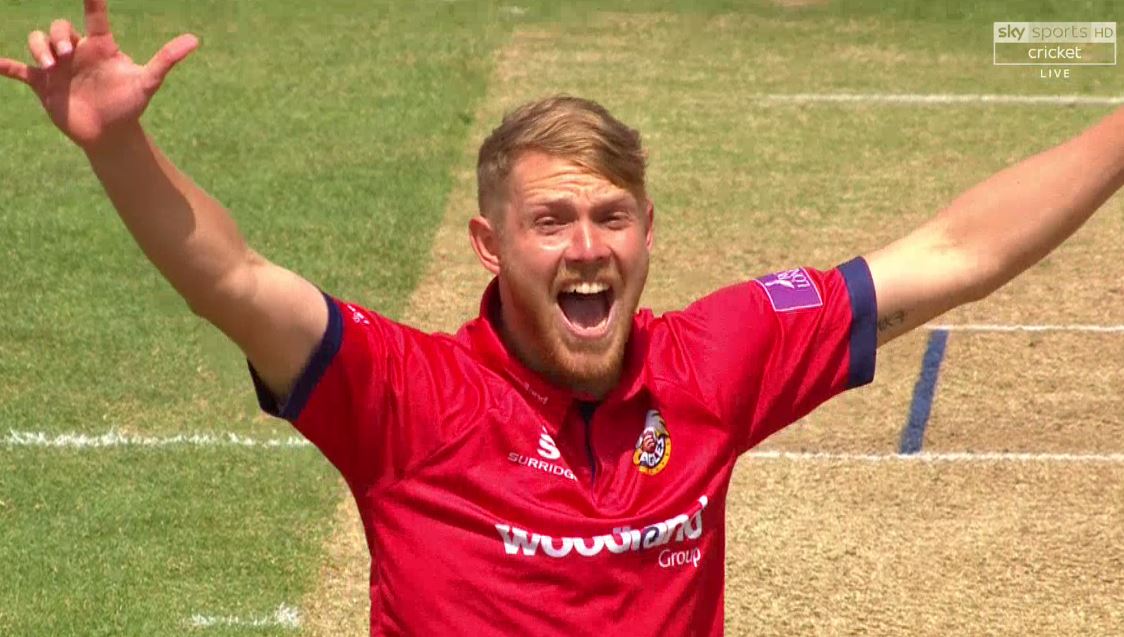 Heading into the 11th over, Yorkshire were looking to rebuild with experience at the crease through Lyth and Ballance. The two Yorkshireman, with a history of international cricket, had managed to restore Yorkshire to 45-2 before further disaster struck. A double wicket-maiden from Porter, who had shone with the ball in hand, had brought the end to Lyth (21) and Tattersall's (0) innings. Yorkshire left on 45-4 after 11, their longboat seemingly all but sunk.
Steadying The Ship
Mr Reliable, Gary Ballance, was called upon once again by the Vikings to restore the innings and salvage any chance Yorkshire may have in reaching the semi-finals. Alongside Leaning, the two were able to build a healthy partnership as Essex opted to take pace off of the ball through Harmer, Zaidi and Bopara. The sinking ship was indeed steadied as the pair forged a 129 partnership. Ballance's 91, including 7 fours and 2 sixes, saw Yorkshire climb to 174-5 when he eventually fell, c. Wheater b. Coles in the 39th over. Ballance was dropped by bowler Wagner for 41, a tough chance which fell to the bowlers favoured left-hand side but not taken.
Leaning soon followed, trapped LBW by Harmer for a hard-fought 57 from 91 deliveries. Yorkshire headed into the final 8 overs of their innings 188-6, with Fisher and Bresnan at the crease.
An extremely helpful cameo from both Bresnan and Fisher in the final few overs will have left Essex captain Westley slightly frustrated heading into the change of innings. Some fine hitting and slightly wide bowling had allowed Yorkshire to scamper to 259-7 after their 50, a much healthier score than what was in prospect after being 45-4.
Eagles Chase
Essex required 260 from their 50 overs in order to progress to the Semi-Finals. Their run-chase began comfortably with Alastair Cook and Varun Chopra at the helm of their order. Pressure was built by the Yorkshire bowlers, especially Coad who managed to get Cook to sky one to Patterson at mid-off leaving Essex 26-1 after 8. Westley was in and out and for Essex, run out by Coad for 2 leaving a lot of pressure on Chopra to lead Essex from 35-2.
Wickets Tumble for the Eagles
Yorkshire's bowlers were bowling a consistent 'awkward' length as Dominic Cork described it on Sky, causing difficulties for the Eagles to score some runs and get themselves in the game. With the fall of Chopra, Lawrence and Bopara all within the space of 7.2 overs for just 30 runs left Essex in serious bother at 89-5, still with plenty to chase down. Regular wickets rewarded the tight bowling from Yorkshire and ensured the pressure was constantly on the Essex batsmen.
Wheater led the revival alongside Zaidi, scoring slowly yet regularly, attempting to build a partnership that Essex desperately needed. A partnership of 34 saw Essex scrape past 100 before Zaidi fell to Patterson for 13 and left Essex lacking wickets in hand. Harmer and Coles added just 9 and 13 respectively before both being bowled, yet it was Wheater who took to the charge and gave Essex some hope of victory. His quick scoring put the pressure back onto the Yorkshire bowlers as lead Essex to within 40 of victory before Patterson bowled him for 78.
A Tight Finish
With Essex needing 44 with just one wicket remaining and 5 overs left, a real game was on at Chelmsford. Wheater had given Essex a glimmer of hope with his 5 fours and 2 sixes and he had inspired Wagner to continue what he started. But Essex was left with too much to do, with 26 needed from the final over, Wagner was bowled by Fisher for 35 bringing an end to the Eagles' hope of progressing in the cup.
Despite Yorkshire's 259 seeming under par for this competition and for the conditions at Chelsmford, it proved to be enough for their bowlers to defend and knock the Eagles out of the competition. Even with 4 changes from their previous match against Northants, with Root, Pujara, Willey and Rashid all on international duty, Yorkshire managed to dig deep to bowl Essex out despite being in bother themselves with the bat at 45-4.
Yorkshire now face a trip to Hampshire on Monday in the Semi-Final of the One Day Cup, with a place in the Final at Lords on the 30th of June.
Teams
Essex Eagles – Alastair Cook, Varun Chopra, Tom Westley (c), Dan Lawrence, Ravi Bopara, Adam Wheater (wk), Ashar Zaidi, Matt Coles, Simon Harmer, Jamie Porter, Neil Wagner.
Yorkshire Vikings – Tom Kohler-Cadmore, Adam Lyth, Gary Ballance, Jack Leaning, Harry Brook, Tim Bresnan, Jonathan Tattersall (wk), Karl Carver, Steven Patterson (c), Matt Fisher, Ben Coad.
For more like this, you can visit our Cricket section here. Also, follow us on Facebook for coverage of the NFL and much more.