Bath City, the little known semi-pro football team in a famous city.
Bath is the largest city in Somerset and is world-renowned because of the roman baths, abbey, and spa, as well as the beautiful landscapes and architecture. Moving onto their sports teams, there is the blue, black and white of the city, in Bath Rugby. The long-time premiership rugby side who have won the title six times are one of the most supported club rugby union sides in the country.
Playing at The Recreation Ground, and averaging 14,000 fans a home game, there is a clear favourite sport in the Roman city. And the numbers behind that are clear, as their football counterparts in the city, in Bath City FC, could be facing extinction, and get less than 1000 fans a game. However, there's hope for the team nicknamed the Romans.
You may be wondering who are Bath City? And how did they get here?
Well, Bath City are a semi-professional football team based in Bath, Somerset who play in the National League South, two divisions below the football league and the sixth tier of English Football.
Their home?
Bath play at Twerton Park, which is located in Twerton on the outskirts of the city, which is just a 30-minute walk from Bath Spa train station. Twerton Park was built in 1932, with a record attendance of 18,020, achieved in 1960 against Brighton and Hove Albion. However, in the modern-day it can hold up to 8840, and only has a seating capacity of 1006, which is slightly below par nowadays.
It is no secret that City have been trying to move away from their almost 90-year-old home, which is evident as in 2008 there was a possibility the club could have played their games at The Rec, sharing with Bath Rugby. This didn't come to fruition however, leaving the same old Twerton Park in their hands.
So, why could Bath City be in trouble?
Well, the club are in financial trouble, they are facing a huge debt deadline in 2022, with 1 million pounds of debt needed to be paid off by then, time is running out. It is no secret the club are making a loss, so need some serious help.
What is being done to help Bath City?
Well, to start off with, let's go all the way back to 2015. In June 2015, the "Big Bath City Bid" campaign was started up by Romans fan and filmmaker Ken Loach to turn to club into a community-owned team, to try and clear debts. The initial target set to take over the club was £300,000, which was quickly met, thanks to endorsements from the likes of Eric Cantona. The takeover was completed in May 2017.
Next up came the big thing, the potential redevelopment of Twerton Park.
Fast forward to around 12 months ago, the initial plans to redevelop the stadium came to the forefront. Those at the Romans plan to achieve dramatic changes to the area, including a new grandstand for the football ground, a gym, an all-weather 3G football pitch, a community hub, sports bar and new housing.
This will be worked on alongside their development partners in Greenacre Capital. They also believe that the plans will benefit businesses, the community and give sports opportunities to children, Finally, an increased amount of student accommodation, and more affordable housing.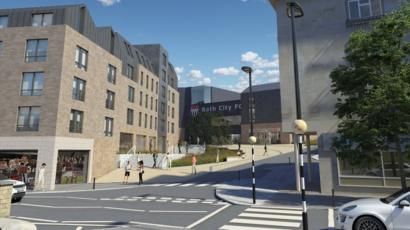 This is later backed up, in an interview with news outlet Somerset Live, City Director John Reynolds talked to them about how he believes that the redevelopment isn't just for the short term benefits, but also is important in helping the community in the long term as well.
He went on to state "This isn't about what we're going to achieve in the next two to three years, it's about what we'll be doing for the next forty to fifty years.
"I love the people here, and what better than to have a community club in Twerton?
"The new 3G pitch will give opportunities for the younger kids to have somewhere new to play, and it'll give opportunities for summer camps. Let's get the kids off the streets.
"I'm convinced that children will come here, their parents will come along, and they'll be back. We'll get our local atmosphere like it used to be, and businesses will benefit because people will be using the pitch 6/7 days a week."
Finally, it's been a while, where does the redevelopment stand today?
Well, from the latest update from the redevelopment page on the club website, it tells us they may learn of their future as early as this February. We talk about how crucial this may be for the community, and that is generated around the fact the club has £1 million pounds debt, which needs to be paid off by 2022, which can't happen in their current state, as they are still making a loss each year.
They also talk about how the redevelopment will offer a new range of shops and businesses to Twerton High Street, before also reminding the fans that the West of England Combined Authority is already offering another £650k for improvements if the development goes ahead.
This decision by Bath and North East Somerset council will be crucial for the future of the Somerset-based club. If this proposal is not approved, where do they go from here? Well, we will have to find out.
For more like this, visit our football page here and follow us on Twitter for coverage of the Premier League, EFL and much more.