International football returns to our screens on the 22nd March as qualifiers for Euro 2020 get underway and Declan Rice deserves a look. England kick-off their qualifying campaign on home soil at Wembley against the Czech Republic in Group A. The Three Lions will be expected to comfortably top their group and cruise into the next major tournament as their other combatants searching for a place in EUFA's biggest international tournament are Bulgaria, Montenegro and Kosovo.
With almost every international break there comes two certainties, much like life, which inevitably brings us all death and taxes. The first certainty is wishing for the return of Premier League football immediately. The second is debating managers squad selection for the national team.
However, in recent times, things have changed. Following a glorious World Cup campaign in Russia last summer, as well as fantastic victories over Spain and Croatia to see England progress to the next phase of the Nations League, I'm looking forward to seeing Gareth Southgate's team take to the pitch again. If you had told me that a year ago, I'd have laughed in your face.
The debate around the managers squad selection will sadly never die. For years Andy Carroll need only notch a couple of lucky goals before some fool declares that the Geordie should be in the England team as he gives the Three Lions a "Plan B." There's always a cluster of players that get touted for a call up following a patch of okay form and an apparent lack of other or better players to fill their position.
Whatever Southgate's squad may be, Declan Rice has to be included. The recently turned 20-year-old impressed me at points last season filling in at centre back a number of times under Slaven Billic and David Moyes. His form so impressive at times, Rice earned three appearances for the Republic of Ireland.
Declan Rice the future for England?
Having pledged his future to England, Rice has recently come under a lot of criticism following his decision to no longer represent the Republic of Ireland. I do have a certain sympathy for Rice in this regard. Despite being born and raised in London to English parents, Rice qualified to play for Ireland through his Grandparents. After being released from Chelsea at just 14, Rice received a call up for the Under 16 Republic of Ireland squad having then joined West Ham.
At that point of his career and all the way up until the last few months, Rice must have believed that any chance he had of playing for England would have been unrealistic and a dream at best. Therefore it's understandable that Rice would have elected to play for Ireland before an England cap became much more likely.
There clearly has to be changes to FIFA's rules that allows players to swap from one nation to another if they have not played competitive football. However, I find it incredible that so many have become infuriated with Rice's decision given that over the years so many blatantly English and Northern Irish players have ended up pulling on the green jersey for the Republic.
From an England perspective, no one batted an eye lid when Wilfried Zaha decided to play for The Ivory Coast after playing in a friendly for the Three Lions. I feel that all this outrage boils down to the fact that Rice is a good player. If he showed little or no potential his critics would scarcely care that Rice had opted to play for England.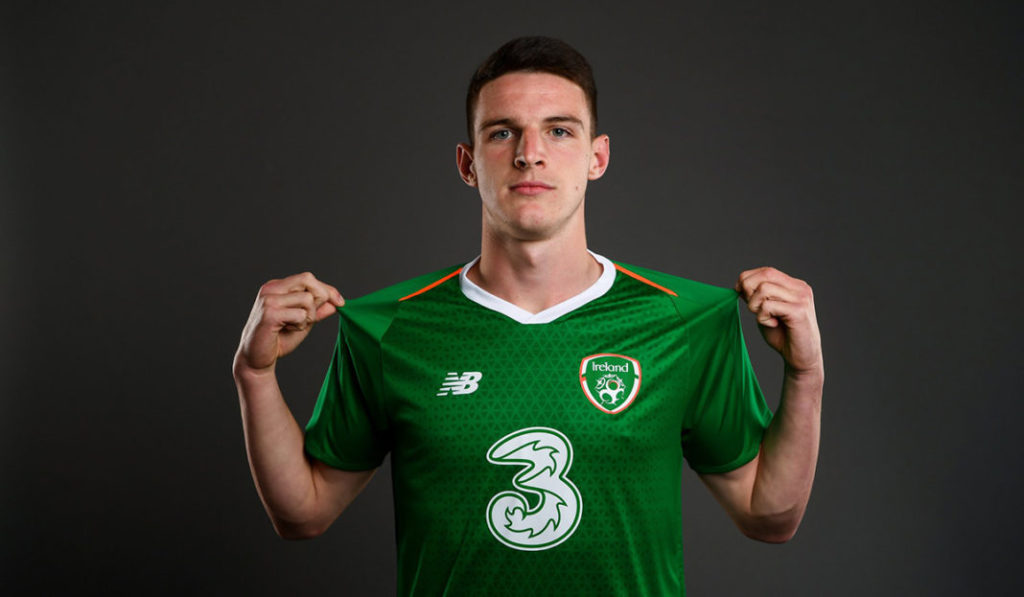 Coming into the 2018/19 Premier League season, even Declan's biggest fans would have struggled to predict the former Chelsea Academy players meteoric rise. After an awful start to the season that saw West Ham lose their opening four games, Rice nailed down a starting place in the heart of The Hammers midfield alongside Irons veteran and legend, Mark Noble.
Since then, the London born lad has become one of West Ham United's most exciting academy graduates since the likes of Frank Lampard, Rio Ferdinand, Joe Cole and Michael Carrick. I honestly struggle to think of another holding midfielder that has illustrated such a complete nature to their game at such a tender age.
Rice's reading of the game is simply superb and allows him to intercept, block and tackle in such an effective manner. Having won the ball back, his distribution is also classy, rarely giving it away, accurate. After playing alongside Noble, Rice also seems to have acquired his captains leadership skills as he's keen to organise and take responsibility in all areas of the pitch throughout the game.
After scoring his first goal against Arsenal in a fantastic win in January, Rice added to his tally against Newcastle in a 2-0 victory only yesterday, silencing his critics. Declan is showing signs that he could go straight to the top and I expect the young man to win the Hammer of the Year Award come the end of the season. It would be a fantastic addition to a deserved first England cap.
For more like this, visit our dedicated football page here. Meanwhile, follow us on Facebook for more opinions and analysis right to your timeline.