For many, 2008 was a year of financial uncertainty, worry and global instability – but for FC Barcelona, it sparked the dawning of perhaps their most successful era as a football club and with it, one of the best football teams the game has ever had the privilege to watch.
Genius, magic, tactical wizard. Just some of the the sorts of superlatives to have be thrown around, regularly, since Pep Guardiola emerged into the managerial vacancy at his boyhood club, describing his abilities as a manager, tactician and role model in football.
Enter, Pep. Cue exits.
Pep Guardiola stepped into management in 2008 taking over a Barcelona side which had finished trophy-less the season prior (the second consecutive season without a trophy), 3rd in the league and in terms of the standards set for themselves, in need of a serious shake-up; in walk the maverick.
The proud Catalonian took no time to mark his stamp upon the first squad, ordering the departures of both Ronaldinho and Deco from the Camp Nou. Pep didn't bring in a single forward during the transfer window in the summer of '08, instead relying on the forwards he already had at his disposal – Thierry Henry, Samuel Eto'o and a 21 year old Lionel Messi who had scored 16 goals in 40 appearances the season prior, playing mainly on the right wing under Rijkaard.
Instead, those Pep did recruit were primarily defensive minded including Gerard Pique from Manchester United, Seydou Keita & Dani Alves from Sevilla and Busquets was promoted from the Barcelona B side by Pep, who'd seen his potential and how much he would benefit the first XI during his season as Barcelona B coach '07-'08.
Philosophical Changes
Pep reinstilled the foundations that were laid by his former coach, mentor and well, I think it's safe to say, inspiration – Johan Cruyff.
Guardiola had after all, as a close friend puts it, "suckled at the teat of Cruyff" and in doing so, had been able to implement one of the greatest examples of the passing game that football has, and may well ever see thanks to the influence of one of the main proprietors of 'Total Football'.
"Guardiola became a reference point in football and his Barça side went beyond the strictly footballing field"

– FC BARCELONA.COM
The philosophy was first introduced to Pep during his time as a player at Barcelona, where he came to understand the attacking philosophy through passing that Cruyff was re-landscaping the world of football with.
A switch back to the 'Cruyffian' mentality, philosophy and to the roots in which Barcelona enjoyed so much success was the catalyst for the dawning of a new era in European football and with it – the dawning of Barcelona's dominance.
As Barcelona put it themselves on their website:
"Guardiola was a firm supporter of basing his team around the club's own youth system and promoted several young talents to the first team, and the result was the greatest Barça team ever."
This is clear in his promotion of Busquets in his first transfer window at the helm of Barcelona, an addition to the squad which allowed Barça to enact their extremely high pressing game, simultaneously providing cover to his defensive team-mates behind and setting the tempo of play from deep and allowing so many attacking minded players on the pitch at once.
The Treble and More
What Pep achieved in his first year managing Barça was unprecedented in Spanish football – the coveted 'Treble'.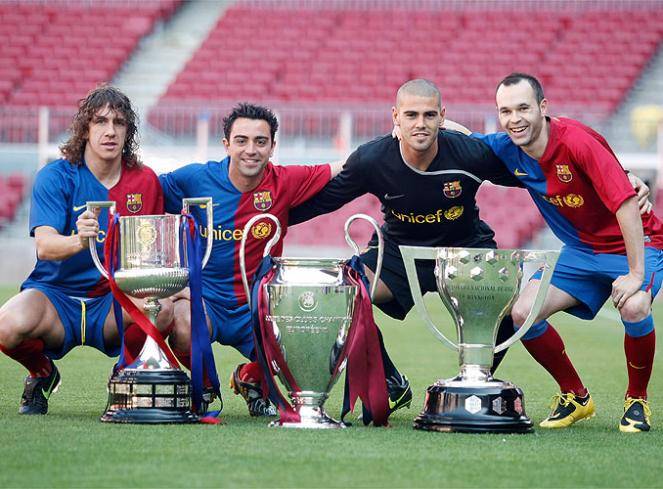 La Liga, Copa Del Rey, the Champions league all returned with Pep to Barcelona's trophy cabinet and confirmed the esteem with which this squad can be held to.
Just think about this for a second – a manager in his first year with your boyhood club, an ex-player at that, comes to lift you out of a baron two years and brings with it, the most successful season your club and Spanish football has ever had the pleasure to witness. But there's winning trebles, and then there's winning trebles in Pep fashion.
The La liga season kicked off with a defeat away at CD Numancia, a newly promoted side who hasn't been seen in La liga since, and then a draw the following fixture at home to Racing Santander – causing some alarm bells to be sounded by the Barça faithful. Believing in his style of play, and his squad, Pep got Barcelona firing on all cylinders as they went on a nine game winning streak in La Liga, including four games in which they scored five or more. This included a 6-1 drubbing of Atheltico Madrid.
Once top spot was claimed come game week nine, it wasn't relinquished by the Catalonians. They spent from November until the end of season sitting atop of the league and forcing their rivals, Real Madrid, to do the chasing.
Yet, with an aggregate score of 8-2 over the home and away fixtures during the course of the season, (including a 6-2 away stuffing) it had made it almost impossible for them to be caught.
Interestingly, Real Madrid never surpassed second place throughout the season, with Valencia, Espanyol and Atheltico Madrid sharing the helm for the first eight weeks.
The inaugural 'LFP Player of the Year' was none other than Lionel Messi, who finished with 23 goals for the season as he shone in a front three consisting of Eto'o & Henry. These three from the class of 2008/09 managed to net over 100 goals between them as Barcelona went on to secure the treble.
Domestic success was furthered with the Copa Del Rey – beating Atheltic Bilbao 4-1 in the final and ensuring a domestic season double for Guardiola. The turn around required from the Barcelona board had already been achieved; the two trophy baron years were finally over and attention switched the biggest one of them all: the Champions League.
Finishing third the season prior meant Barcelona, unusually, had to go through a preliminary qualifying round – where they slipped up after taking a commanding 4-0 first leg victory away to Wisła Kraków, losing 1-0 and perhaps showing some signs of arrogance. Take nothing away from the Polish side however, a fantastic scalp in vain.
This arrogance was noticeable again in the final game of their group stage – in which top place had already been confirmed. A 3-2 loss to Shakhtar Donetsk.
But, Guardiola can be forgiven for these slip ups, for the hard work had already been accomplished and no fan or pundit can really slate a side who've gone about their business early to secure their qualification and can field a 'weakened' side come the final game week. It's important to note, none of the famous front three, who had mustered up over 100 goals together, appeared for Barça against Shakhtar in what was a fairly unrecognisable XI.
A 6-3 aggregate score over Lyon and 5-1 versus Bayern Munich in the first two knockout rounds did nothing but solidify the notion of just how good this side were and able to do it on all the stages. Barça then went onto break English hearts twice. An infamous 1-1 draw at the Bridge against Chelsea surrounded with refereeing controversy saw them claim a place in Rome's final against Sir Alex's Manchester United – the defending champions.
A goal from Eto'o and Messi in each half was enough for Guardiola's men to secure an unprecedented treble for a Spanish club as they came away from Rome with a 2-0 win.
Whilst the Champions League marked the end of a season in which I can't begin to even fathom which superlative suits it best, the success of 2009 didn't stop there. Ok, it crept into the following season, but it was a continuation of the success they had achieved in the treble winning season which had allowed Barcelona the possibility to compete for the 'Sextuple'.
Of course, they went on to win everything they possibly could. A domestic and European treble, the Spanish Super cup, European Super cup and the FIFA World Club Cup – this team wasn't just the best Spanish or European team, they were the best this world could offer and will rightfully go down in history as potentially one of the greatest sides since the formation of association football.
The extent to which Guardiola had revolutionised this side was evident in the Ballon D'or of 2010 following the 'Sextuple' – in which the final three nominations: Messi Xavi, & Iniesta, all hailed from Barcelona's infamous La Masia for the first time in history. Messi picked up his first Ballon D'or in which at the time, was a record breaking 240 votes.
The Pep effect was infectious and unstoppable throughout the club and knew only one thing in which it interacted with – how to win.
Barcelona honours from 2009:
13 May – Copa del Rey
16 May – League
27 May – Champions League
23 August – Spanish Super Cup
28 August – European Super Cup
19 December – FIFA World Club Cup
For more like this, visit our dedicated football page here. Meanwhile, follow us on Facebook for more opinions and analysis right to your timeline.